Casino Video Poker in New Zealand
Video poker is a unique casino game that combines the features of slot machines and table poker. The New Zealand client does not have an opponent as such, and payments are charged for poker combinations collected on the screen of the device. But the main advantage of the game is the ability to act on equal terms with the casino, which is opposite to video slots or roulette.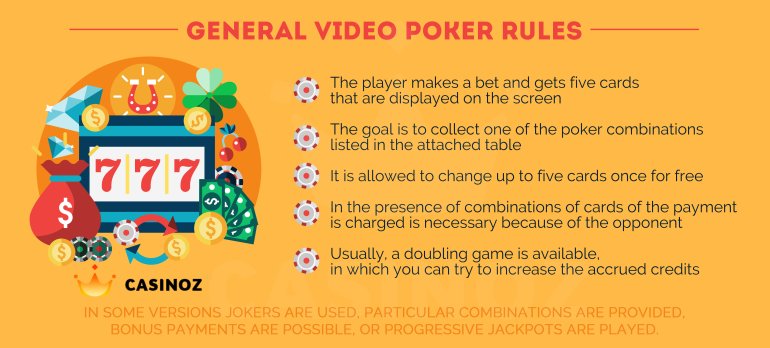 General video poker rules
Despite the existence of dozens of varieties of the game known in New Zealand, the general points of the rules remain unchanged for all of them. Let's highlight the most essential pe:
The player makes a bet and gets five cards that are displayed on the screen.
The goal is to collect one of the poker combinations listed in the attached table.
It is allowed to change up to five cards once for free.
Any poker hand in the player's cards brings him a payoff as he has no opponent.
The gamble feature, available in most of the games, may help the player double his wins.
Players of New Zealand may find jokers, particular combinations, bonus payments, or progressive jackpots in some of the varieties.
At Casinoz New Zealand, you will find a detailed description of the video poker rules for each game on the list.
Most popular video poker games
Here are some of the top-rated varieties in New Zealand:
Jacks or Better – is a classic video poker, which awards the payouts for combinations from a pair of jacks (or better);
Bonus Poker – similar to Jacks or Better, with unique payoffs for some combinations;
Deuces Wild – all deuces in the decks play like the Jokers;
Joker Poker – also involves Joker, which can substitute other cards in a poker hand;
10's or Better – winnings are awarded for two tens and better;
All American – video poker with varying multipliers for certain combinations;
Aces and Faces – Four of a Kind of Jacks, Queens, Kings or Aces is paid out at inflated rates.
The largest software producers offer all major varieties of video poker to New Zealand gamblers. Many companies have released multiple games of popular types, which allow playing on one or more hands.
The strategies of key video pokers are published at Casinoz New Zealand.
Video poker with progressive jackpots in New Zealand
Some video pokers provide an opportunity to win a progressive jackpot in New Zealand. The rules may vary, but in most cases, those who play by the maximum bets have a chance to win this prize. Usually, you need to make the maximum poker combination to win the progressive jackpot.
If you play video poker for money, always check the features of the draw. Pay attention to the required bet and other nuances not to leave disappointed.
We always explain details of the jackpot T&C in our New Zealand reviews.
Bonuses in video pokers
Many software developers release unique models with prize payouts, bonuses and other surprises for New Zealand players.
It can be inflated payouts by certain combinations, thematic rounds, free games, and other features. Some producers manage to even surprise our experts with their unique prize options.
If a side bet is required by the bonus terms, make sure you check the RTP (return to the player) first. Video poker side bets often have quite a high math advantage.
Video poker at mobile casinos
Currently, all large online casinos provide an opportunity to gamble on smartphones and tablets. The general rules remain the same, while the interface is adapted for touchscreens.
All the best mobile online casinos offer mobile versions of the most popular video pokers. We discuss its features in our New Zealand reviews.
How to choose the best video poker in an online casino?
When choosing a game, experts recommend to pay attention to the following:
RTP (theoretical return to the player) – this is the most important indicator. The higher it is, the more often you will win, following the optimal video poker strategies. In the most profitable games, it exceeds 100%. It means that the mathematical superiority is on the player's side.
Gamble Feature – usually the casino has no math advantage in the gamble feature. Moreover, in some games, you can refuse to participate after you saw the dealer's face-up card. This allows you to play only when chances are very good. Look for such video pokers.
Strategy availability – recommendations on how to act in all situations that may occur during the gameplay have been made for key varieties of video poker a long time ago. If you are looking into a unique game, make sure that you can choose the perfect strategy for it. Otherwise, you will not achieve the best results.
Bets – give preference to the games with comfortable limits and a wide range of bets. This will allow you to maneuver.
Quality – video poker is not the most spectacular game. The gameplay features do not require a stunning animation, catchy graphics or an amazing sound. But still, any New Zealand plater will prefer a game with a nice design and user-friendly interface.
Do not forget about personal preferences. Don't force yourself to play if the heart is not in this game.
Video poker training in New Zealand
Video poker is one of the casino games which the result depends on the skill of the user. Moreover, the most profitable varieties give the gamblers of New Zealand a chance to even get a mathematical superiority over the casino. That's why video poker is in demand among the professional players of New Zealand.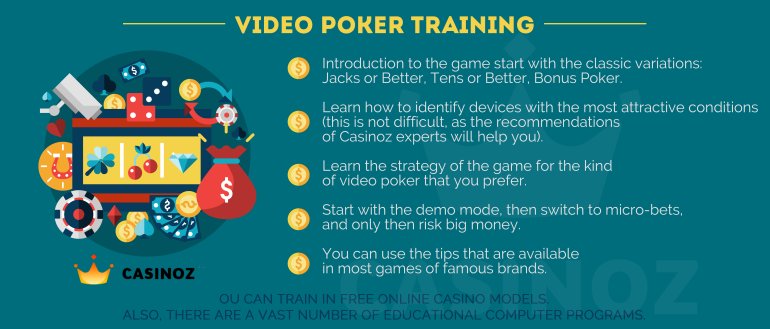 A few tips for beginners:
Begin with the classic variations: Jacks or Better, Tens or Better, Bonus Poker.
Learn how to identify games with the most attractive T&C (there is nothing difficult here if you use the tips from Casinoz New Zealand experts).
Learn the strategy for the kind of video poker that you prefer.
Start with the demo mode, then switch to micro-bets, and only then risk big money.
You can use the tips that are available in most games of famous brands.
You can practice with free demo versions. Also, there are a vast number of educational programs on the web.
Be sure to read the special publications on our website for the best video poker classes in New Zealand.
Frequent video poker mistakes in New Zealand
Rookies usually make the same mistakes when they begin to master video poker.
They don't place maximum bets, that could reveal bonus opportunities, like increased payoffs or a progressive jackpot.
They rely on intuition, not paying attention to the recommendations of the basic strategy.
They are fond of exotic varieties, which attract by bonuses but have a high advantage of the casino.
Remember that New Zealand pro gamblers have calculated how to act in any of the possible game situations a long time ago. To achieve the maximum results, you need to pick the right game and act strictly according to the New Zealand experts' recommendations.
Video poker reviews at Casinoz
We have a common structure for all video poker reviews at Casinoz New Zealand:
General rules,
Available bonuses,
Availability of progressive jackpots,
Interface features,
Mobile video poker for smartphones,
Conclusions with the key pros and cons of the game,
Tips on which online casinos to play.
Read customer reviews and do not be lazy to share opinions.
How to play video poker for free?
Any Casinoz reader in New Zealand, whether a casual visitor or a registered user, can try video poker "for fun".
We only offer licensed demo versions from the manufacturers. They are designed for you to be able to learn all the elements of the interface, to understand the rules, to work out the skills of the basic strategy, as well as just to have fun.
How to play video poker for money?
You cannot play video poker for real money at Casinoz New Zealand. The site does not provide such services and does not accept bets in any form.
To risk real money, go to an online casino. You will find a list of the best places in New Zealand, where you can find the discussed game, below the reviews.
Conclusion
Although video poker is not as popular in modern online casinos as slots or blackjack, we advise you to learn how to play this game. It offers very favorable conditions for New Zealand customers.
Read reviews of the best video pokers at Casinoz, choose the appropriate ones, learn how to play and win!