Online casino tournaments
Casinos hold all kinds of tournaments and raffles of valuable prizes since the first years of active gambling business development. Such events are a very useful advertising trick, a powerful tool to attract new customers and an effective way to retain regular players in New Zealand.
Gambling operators offer tournaments on roulette, video pokies, blackjack, different types of poker and other games. In the past, fans of such events attended brick and mortar casinos, and since the late 90s of the 20th century, gamblers of New Zealand can challenge other players at the online casinos.
Online VS. Offline
The discussion of the pros and cons of online and offline tournaments in New Zealand takes place at the same level as the comparison of the pros and cons of the two types of casinos. In this section we are talking about events on gambling sites, so let's focus on their advantages.
Wide choice – most of the largest online casinos hold tournaments of different types;
Lots of free tournaments – no entry fee tournaments are most common in modern New Zealand online gambling;
Simplicity – online casinos hold tournaments according to basic rules, often even without registration;
Speed – many contests are held in an accelerated mode, sometimes it may take a few minutes to participate;
Prizes – you can win cash, valuable gifts and other prizes at online casino tournaments.
We should also add that participation in online tournaments is not associated with transport and other side costs.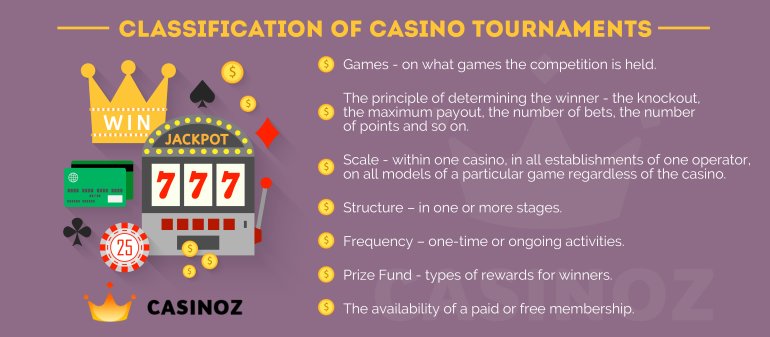 Classification of casino tournaments
Tournaments can be classified by the following parameters:
Games – which are eligible games;
The principle of determining the winner – the knockout, the maximum payout, the number of bets, the number of points and so on;
Scale - within one casino, in all casinos of one operator, on all models of a particular game regardless of the casino;
Structure – in one or more stages;
Frequency – one-time or ongoing activities;
Prize Fund - types of rewards for winners;
Paid or free membership.
Before you apply for the tournament, make sure it meets all your criteria.
The prize fund of casino tournaments
Regardless of the game, the prize pool may consist of different units:

Real loans – money, which the winner can immediately dispose of at his discretion. They can be quickly withdrawn or staked in other games.
Bonus credits – money that you need to wager before withdrawing. These are like bonuses. Usually, wagering requirements are not too strict in New Zealand.
Comp points – loyalty program points that are awarded to customers in the real game mode. They are added to the total bill. The client can exchange them for cash or spend in a different way suggested by the rules.
Free spins – a right for a certain number of free spins on online pokies.
Valuable prizes – electronic devices, laptops, cars, and other expensive goods can also be the prize in the online casino tournament.
Lottery tickets - the opportunity to participate in the prize draw.
Sometimes the prize pool consists of different types of rewards for the winners.

General rules of pokie tournaments in New Zealand
Currently, pokie tournaments are the most popular events in New Zealand online gambling.
They are held on particular online pokies. Make sure you check out the terms in each case. In the past, pokie tournaments with an entry fee were pretty popular. The player was provided with a certain amount of credits. The winner was picked by the total amount of payments. Additional purchases were often allowed.
Currently, online casinos hold free tournaments on pokie that do not require the New Zealand players to sign up. You need only to play for money on the pokies involved in the event during the specified period of time. All payments are transferred to your balance, but your achievements also go into the overall standings, which are determined by the winners. The prize fund is usually made up of the casino loyalty program's comp points.
Pokie tournaments can also be held by unique rules designed by casino management. Therefore, make sure you carefully study them before applying.
General rules for video poker tournaments
Most video poker tournaments in New Zealand are held on time or by the number of rounds played. The winner is usually the one who wins the maximum amount during the event.
According to statistics, video poker tournaments are usually won by those who managed to collect a Royal Flush or at least a Straight Flush. That means you should strive to get the maximum combination by playing at the maximum bet in coins.
Do not forget about the best video poker designed for all popular varieties. Before the tournament begins, review the expert tips, and print a cheat sheet with tips for drawing all possible hands. Don't just rely on luck.
General rules of roulette tournaments
Most often, participants of roulette tournaments in New Zealand receive chips of a certain amount. They can make bets as they want, choosing their own strategy. A combination of external and internal bets is allowed, but minimum and maximum limits may apply.
Often roulette tournaments are held in several stages. Players with the least amount of tokens are eliminated on each of them. The winner is the one who stays in the game the longest.
General poker tournament rules
When it comes to poker tournaments in New Zealand, it usually means Texas hold'em, Omaha or other types of poker where customers play against each other, and the casino acts only as an organizer. Such events are not discussed on the pages of Casinoz.
We are focused on gambling against the casino. In the case of poker, we are interested in such models as Caribbean Stud, Oasis Poker, Casino Hold'em, 3-Card Poker and other varieties of this type.
Online casinos rarely settle tournaments on these types of poker. If you meet such an event, most likely, the winner will be determined by the number of payments during a certain period of time or the maximum combination.
General blackjack tournament rules
A typical casino blackjack tournament in New Zealand consists of a series of rounds. Players either receive tournament credits or play with their own money. Several hands play at each stage. At the end of the round, participants with the lowest current bankroll are eliminated.
Additional terms may apply to the final table of the blackjack tournament. They may concern, for example, betting limits.
Most blackjack tournaments are held for money. The prize fund is made up of the entrance fees of the participants minus the fee. When it comes to a free tournament, winners usually receive loyalty points or bonus credits that need to be won back.
Remember that blackjack is one of the most difficult casino games. If you are going to risk money in the tournament, at least learn to play according to the basic strategy. Without basic knowledge, you will have a hard time competing with New Zealand professionals.
Large-scale tournaments
Periodically, large software developers arrange Grand tournaments on certain casino games of their own production. Clients of all online casinos, where these games are presented, can participate.
An example is the Grand Slam of Slots or pokie tournament on the Thunderstruck. They were held in the Microgaming online casinos.
Such events consist of several stages. They draw large amounts of money and valuable prizes. Such contests always involve a participation fee.
Currently, this format is not as popular as in the past years in New Zealand, but software producers and gambling operators come back to it from time to time.
Strategy for playing at casino tournament in New Zealand
Recommendations depend on multiple factors: a type of gambling, winner requirements, time and so on.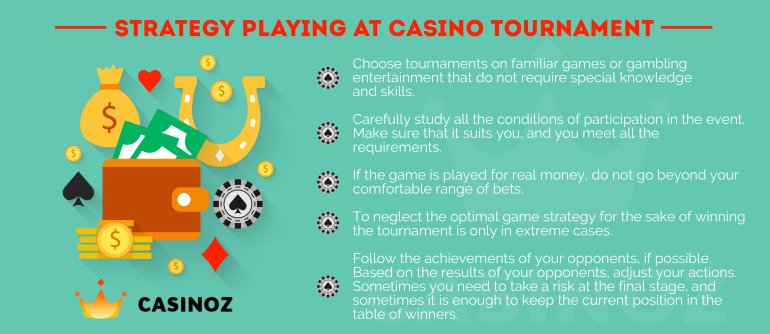 General tips are as follows:
Choose tournaments on familiar games or those which don't require particular knowledge and skills.
Carefully study the tournament T&C. Make sure that it suits you, and you can meet all the requirements.
If you play for real money, don't go beyond your comfortable range of bets.
Neglect the optimal game strategy for the sake of winning the tournament only in extreme cases.
Follow the achievements of your opponents, if possible. Based on the results of your opponents, adjust your actions. Sometimes you need to take a risk at the final stage, and sometimes it is enough to keep the current position in the table of winners.
The thematic articles at Casinoz about the strategy of playing at casino tournaments cover all nuances that should be taken into account in certain cases.
Casino tournament reviews on Casinoz
Tournament announcements are published at the Casinoz forum and in the news section. This section covers events that are held on a regular basis in popular online casinos in New Zealand.
The structure of the reviews depends on the genre and other features of the tournament, but all articles cover the main aspects.
General description – games and casinos participating in the tournament;
Time – time and date of the event;
Registration to the tournament – how to apply;
Prize Fund – what is drawn in the tournament, how the rewards are distributed;
Determining the winners – winners requirements;
Other terms – additional terms, restrictions and other information.
New Zealand users are welcome to write reviews, tell about their personal experience of participating in tournaments and share their impressions with other readers in the comments.
How to choose a tournament?
When choosing a tournament, give yourself answers to the following questions:
What games are you interested in?
Are you ready to pay for participation?
What is the format of the tournament for you?
What would you like to win: money, bonuses, free spins, prizes?
How much time can you allocate to participate in the tournament?
How much money are you willing to pay for the contest?
Having determined the goals, objectives and personal preferences, study the tournament reviews, published on this page. Pay attention to the rating. Read customer feedback.
When you choose a suitable event, go to the casino's website, carefully study the rules and get down to business.
Conclusion
Casino tournaments are inspiring events that bring variety to the gameplay, cause a surge of adrenaline and sometimes give the opportunity to compete for substantial prizes.
In the online casino, it is easy to find a tournament for your favorite game. Are you good at blackjack? Challenge other New Zealand and world professionals. Are you lucky at roulette? Forward in battle! Are you crazy about modern pokies? You will find a massive selection of pokie tournaments available in New Zealand.
Online casino tournaments reviews at the thematic department of Casinoz will help you to choose the most exciting event and suitable terms. Read articles, study expert recommendations – and let the fortune favor you!