Craps is one of the most popular and exciting casino games in New Zealand. Craps tables are more lively than others. You will always hear cheers, dealer's loud commands, and the most unusual phrases that attract visitors.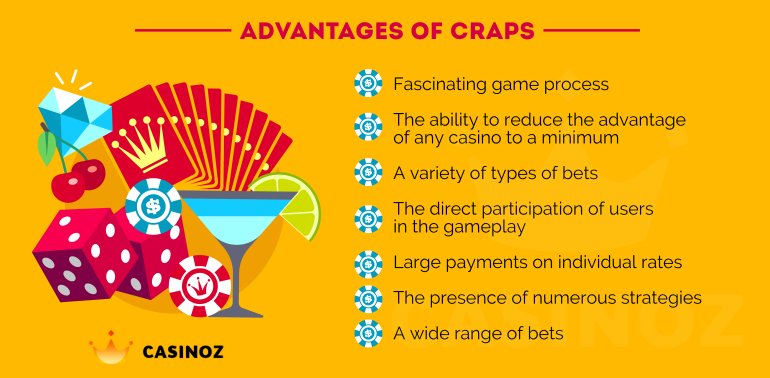 With the development of online gambling in New Zealand, craps is also available on gambling sites, which has promoted the growth of its popularity and made it available to New Zealand gamblers around the country.
Advantages of craps in New Zealand
What attracts New Zealand users to craps? It has some undoubted advantages:
Fascinating gameplay;
The ability to reduce the advantage of any casino to a minimum;
A variety of bets;
The direct participation of users in the gameplay;
Large payouts by particular bets;
Numerous strategies;
A wide range of bets.
Craps gives a unique experience that can not be found in any other casino game. You should give it a try to have an idea and decide whether this game is a fit for you.
Basic rules of craps
The point of the game of craps is to guess a combination formed when the player rolls the dice.
In real casinos, players roll the dice one after another. The online version of the game is based on the random number generator, which determines the winning combination.
It is hardly possible to explain the rules of the game in a nutshell, so we strongly recommend New Zealand Casinoz readers to read a special article in the thematic section of the website. The whole process is described step by step there, as well as the types of bets and odds.
First, you will need to deal with the key stages:
Come Out Roll;
Point Roll.
They are quite simple and do not require you to have special skills. Next, you will be able to explore other aspects of gameplay.
How to learn craps
For a beginner, rules of the game may seem extremely complicated at first. Many are afraid even to come to the table, which deprives themselves of unforgettable pleasure. New Zealand online casinos provide a unique opportunity to explore all the subtleties of craps without risking money and not being afraid to seem ridiculous.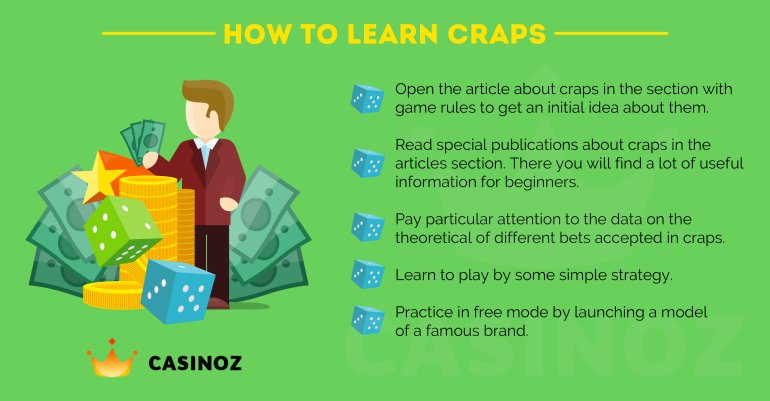 We recommend readers of Casinoz New Zealand to stick to this plan:
Open the article about craps in the Game Rules to get an idea about it.
Read special publications in the Articles. There you will find a lot of useful information for beginners.
Pay particular attention to the return to the player by different craps bets.
Learn to play by one of the simple strategies.
Practice a game of a famous brand in a fun mode.
When you feel confident, you can try your luck for real money.
How to play craps online in New Zealand
Many New Zealand craps fans claim that this game loses all its charm at the online casino because there is no notorious atmosphere prevailing in the land-based casinos.
There is some truth in such statements, but not every player in New Zealand has the opportunity to enjoy craps in offline casinos. Moreover, modern online games have stunning graphics and provide customers with great opportunities in terms of gameplay.
If you want to play craps online, you need to choose a game from the list above, read the detailed review and run the demo version. To play for money, go to one of the suggested online casinos, register and make a deposit. Our step-by-step instructions will help you get it right.