Bingo in online casinos
Have you ever heard a joyful shout: "Bingo!"? A funny fact is that it is often used by New Zealand people who do not know how to play bingo and hardly even know about this game.

Currently, it is offered by many gambling sites. Also, it is popular at online casinos of New Zealand, which usually offer several options with different rules and interface features.
Casinoz experts have tested numerous versions of online bingo and described them in the detailed reviews.
General rules of bingo
First, let's look at the basic points.
The goal of bingo is to fill in your card with winning numbers.
This is a kind of bingo game that everyone in New Zealand knows from childhood. It is played with tickets with different numbers and numbered balls.
In the online bingo, the random number generator picks balls one by one. The numbers are automatically marked in the customer card.
Winnings are paid for all marked numbers, as well as for the particular patterns. Templates are always specified in the payout tables.
An amount of the win depends on the bet and certain multipliers.
There are a lot of varieties of bingo in New Zealand, so the nuances of the rules should be specified for each game.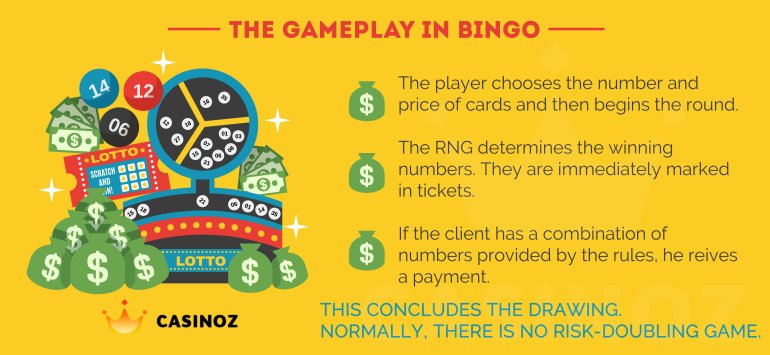 Bingo gameplay
The usual sequence of actions as follows:
The player chooses the number and price of cards and then begins the round.
The RNG determines the winning numbers. They are immediately marked in tickets.
If the client has a combination of numbers provided by the rules, he receives payment.
This concludes the drawing. Normally, there is no gamble feature.
Varieties of online bingo in New Zealand
Playtech, Novomatic, Netent and many other software producers have online bingo in their New Zealand gaming libraries.
Games vary by multiple parameters:
Theme – along with the classic games, you can find themed varieties with interesting characters.
The number of balls – online bingo usually plays 90 balls, but other options are possible.
The number of cards – sometimes you can only play on one card, but in most varieties, you are allowed to take several.
Return to the player – the RTP depends on the rules. Many developers specify it in the Help, which comes with the game.
The winners – wins can be awarded only for the fully completed cards, but many games at online casinos in New Zealand, pay for particular patterns made up of crossed out numbers.
Bonuses – software developers often include additional prize features, payouts, and other bonuses.
Jackpot – some bingos draw progressive jackpots. As a rule, to win a progressive jackpot, you need to strike out all numbers with a certain number of balls.
Functionality – we mean settings, AutoPlay and other features that are not directly related to the gameplay and the rules of bingo.
When choosing a game, pay attention to all the criteria, but remember that the most important one is RTP.
How to win in online bingo in New Zealand?
There is no single winning strategy for casino bingo. In most games, New Zealand customers cannot make decisions that affect the outcome.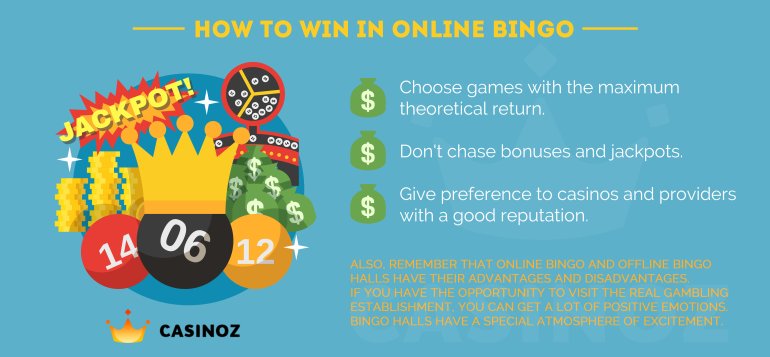 However, New Zealand experts give some advice on how to win more often:
Choose games with the maximum return to the player.
Don't chase bonuses and jackpots.
Give preference to casinos and providers with a good reputation.
Also, remember that online bingo and offline bingo halls have their advantages and disadvantages. If you have the opportunity to visit a land-based casino, you can get a lot of positive emotions. Bingo halls have a special vibe.
Bingo reviews at Casinoz New Zealand
We discuss the best online bingo from the leading software providers, presented at online casinos of New Zealand in the reviews on this page:
General description,
Game rules,
Description of gameplay,
Bonus information,
Progressive jackpots,
Interface and features,
Where to play online bingo in New Zealand,
Conclusion.
You are welcome to share your opinion and read clients' feedback below the bingo reviews.
Conclusion
Bingo cannot be classified as one of the most profitable casino games in New Zealand. Usually, all games have a relatively low return to the player. However, some bingos from well-known providers have significant RTP.
The advantages of bingo are simple rules, exciting gameplay and the opportunity to win big money. Some variations also attract by bonuses and jackpots.
So do not categorically abandon bingo. Perhaps you may like it.