Casino pokies in New Zealand
For many years pokies remain the most popular type of gambling in New Zealand. According to numerous surveys, more than half of the New Zealand respondents called online pokies their favorite form of entertainment in online and offline casinos.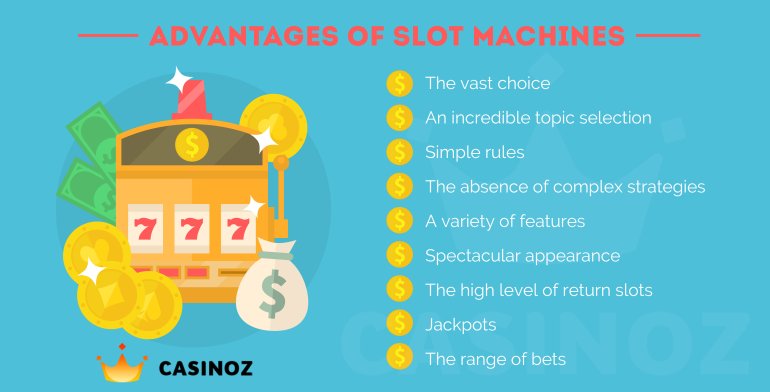 What is the reason for the everlasting popularity of pokie machines in New Zealand? Let's try to highlight its main advantages.
The vast choice – online pokies are countless. New games pop up every day. You will find thousands of pokie reviews at Casinoz New Zealand. We review new releases of famous brands right away.
An incredible selection of themes – whatever you are fond of, you will surely be able to find a pokie machine on your favorite subject. Sports, cinema, history, literature, geography – developers cover all popular trends. 
Elementary rules – pokies are accessible even for the most inexperienced customers. You will understand the key points of the gameplay of any new game in a few seconds. There is no need to study the subtleties of payments or prize features. These processes are automated.
No complicated strategies – this is not a blackjack or video poker. You do not need to delve into the theory and improve skills in practice. Place a bet, spin the reels – see the result. The chances of winning are equal for a beginner and an experienced user.
A variety of features – pokie producers are trying to surprise New Zealand users all the time. They offer unusual designs, original bonuses, themed draws, free spins, amazing prizes, unique symbols, uncommon winning rules and much more.
Stunning design – video pokies attract users by brilliant design with exquisite graphics, saturated colors, catchy animation, and high-quality sound.
The high level of return to the player – of course, pokies cannot be attributed to the most profitable casino games. The math advantage of the casino in most of them is slightly higher than, for example, in Jacks or Better or European Blackjack. And yet in the best pokies, the RTP is within two to three percent, which is a good level. As a reminder, you do not need a lot of practice to achieve it, as in the case of blackjack or video poker.
Jackpots – the significant part of the largest progressive jackpots of famous brands is drawn on pokies. If you hear about a multi-million dollar win, almost certainly we are talking about a lucky one who hit the jackpot on a popular pokie.
The range of bets – the same pokie will suit both the high rollers and micro-limit players. As a rule, online casino operators offer bets in an extensive range.
As you can see, this kind of game has numerous advantages, which makes pokies so popular in the gambling industry of New Zealand.
Types of online pokies
Pokies can be divided into groups by different criteria related to their design, available features, area of use, subject, the range of bets and other characteristics.
First of all, online pokies can be divided into two main categories:
Traditional pokie machines – are classic pokies with three reels, one to five lines, standard symbols and a limited set of additional features.
Multi-functional online pokies – games with five (or more) reels and a variety of bonuses. Usually, they feature wilds and scatters, free spins, prize draws and other options.
Such a classification is pretty rough for modern gambling, as the developers often release games at the junction of genres. On the one hand, the classic "one-armed bandits" can implement unique functions. On the other hand, a standard 5-reel video pokie can offer traditional symbols and primitive gameplay in style of the first "fruit machines".
Another fundamental difference is the use of the game.
Online pokies are designed for online gambling sites;
Offline machines are installed in real casinos.
Some developers offer several versions of the same game, including options adapted for smartphones at mobile casinos. In Casinoz reviews, we discuss mainly the video pokies for online casinos, although some articles also talk about the most exciting or unusual offline machines.
In recent years, it became popular in New Zealand to roughly classify pokies by dispersion. This is also called volatility or variability. In the case of online gambling, the higher it is, the rarer but the higher the payout.
It is common to distinguish three levels of variance:
Low – almost every spin brings combinations, but they are often lower than the bet;
Medium – the most common option with a moderate balance of winning and losing spins;
High – "bad streaks" can stretch for dozens of spins, but even one payment can cover the costs.
Now many producers indicate the volatility level in the paytable or in the reference sections attached to the pokies. The reviews of pokie machines at Casinoz New Zealand also provide this information.
It is also possible to divide online pokies into groups by types of jackpots:
Pokies without jackpots;
Games with fixed jackpots;
Online pokies with progressive jackpots of different types.
The software producers determine the terms of the jackpot draw. There are no uniform provisions.
Also, you can classify online pokies by gaming features: bonus games, free spins, jokers, doubling round, and so on.
Pokie rules
The basic pokie rules can be explained in one line:
The goal of the game is to make a paid combination of symbols or get a win in a different way.
It is often more challenging to choose a suitable video pokie with the most favorable conditions than to play.
Simple gameplay is one of the key factors of the huge success of online pokies.
In most games, you are only required to place a bet and run the spins. Moreover, you can even play in automatic mode, to just watch what is happening on the screen.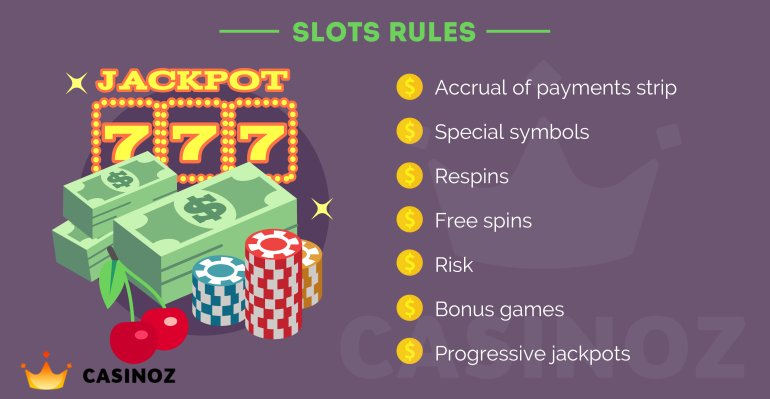 If you want to understand the subtleties of the gameplay, look through the following:
Payments – traditionally, several same symbols for a winning combination. Each pokie may offer a particular order of landing the symbols at the screen. Most often, they should line up from left to right on the active line. Sometimes, landing several same symbols at adjacent reels is enough. Less often they don't depend on the active lines at all.
Special symbols – some symbols play by the special rules. For example, Scatter pays regardless of the location and triggers free spins, and Wild substitutes the missing symbols in combinations.
Respins – free re-launches of the reels, activated in certain situations. Some of the symbols may remain on the screen.
Free spins – a series of spins on casino's expense, by the bet of the previous spin. They also often include additional features.
Gamble feature – give a New Zealand player a chance to increase his payoff by the result of the spin. In most cases, you need to guess the color of the face-down card to double the win. Other options are also possible: "heads or tails", higher card suit and unique developments of the producers.
Bonus games – there are several types of prize rounds. The most common are "pick an item", "wheel of fortune", "guess the winner", "defeat the opponent" or "find the right way." In some pokies, bonus games are unique and go beyond the standard templates.
Progressive jackpots – progressive jackpots can be drawn by various rules. Some are offered in all games of a certain brand. Others are only available on one pokie regardless of the casino. Thirds can be won only on a particular pokie in a single casino. We recommend studying the T&C in each case.
The reviews at Casinoz New Zealand explain the rules of online pokies step by step. You will learn how to form combinations, how to win a payout, how to use the special symbols, which bonuses are available to New Zealand users, and which surprises the game can bring.
Mobile pokies
All new pokies come with a mobile casino version. The largest software developers and small studios follow the trend.
Mobile casino pokies usually have a similar design to the desktop version and offer the same rules, bonuses, and terms.
The difference is the interface. It provides comfortable gaming on small touchscreens. Usually, it is a particular location of the controls, smaller size, as well as lower requirements to the productivity of the device and the Internet speed.
Pokies with bonuses
Most of the online pokies feature various bonuses. Only traditional pokie machines, designed in strict accordance with the classical canons, now can exist without it. However, the developers often implement additional prize options even in such games.
Different types of pokie bonuses are popular in New Zealand. Let's highlight some of the most common:
Free spins – a series of free spins at the casino's cost. Usually, they begin when several scatters land on the screen at the same time.
Respins – are a kind of free spins. Most often, you'll get a single re-spin and then rerun it several times. The exact number of re-spin is not announced in advance.
Wheel of fortune – a wheel of sectors, which indicates the amount of payoffs and other prizes. 
Pick an item – a frequent bonus, during which you need to randomly pick items that hide different rewards.
The fight of the heroes – not the most popular in New Zealand, but an exciting bonus. The characters fight each other. It can be automatic or require actions from the client. Sometimes the battle flows simultaneously with free-spins.
Race – the participants are trying to reach the finish line, beating the rivals. You can stake on the victory of one of them, or even help your favorite.
Walking by the cells – a bonus in the style of board games, which suppose you roll the dice and to walk by the field. You may find various types with unique rules in New Zealand.
Extra multipliers – a chance to multiply the payoff.
Unique bonuses in casino pokies of New Zealand – other options with extraordinary rules, which cannot be classified.
Multi-level video pokies are trending in New Zealand now.
We should also mention a popular trend on so-called skill-based online pokies in New Zealand. We mean the games with bonuses which require specific skills or knowledge from the player. In other words, the result depends not only on the random number generator. The more successful the player will act, the larger the final payout will be.
Pokie bonuses are discussed in detailed reviews at Casinoz. You are also welcome to watch our channel to find out more.
Jackpots pokies
Often, a jackpot is a maximum payout that can be obtained by playing the pokie. Each game features the maximal fixed payout specified in the rules and a special table.
Besides, many pokies feature progressive jackpots. The size depends on the user's activity while playing for real money. Small deductions from the bets go to the general prize fund.
Few types of progressive jackpots on pokie machines are popular in New Zealand:
On one particular pokie,
In several games, but only in one casino,
On s particular pokie represented in any casinos.
Chain jackpots can reach several million because their amounts grow due to deductions from the bets made by several thousand users, but it is tough to win them because of the enormous competition in New Zealand.
Jackpot terms of online pokie may vary. Let's take a look at the most common options:
Make a required combination;
Cover the entire screen with the required symbols,
Spin the fortune wheel,
Fulfill specific requirements during the bonus game and so on.
Sometimes only customers who make maximum bets can claim the jackpot. Often, the potential amount depends on the user's current bet.
Always study the jackpot T&C and remember that progressive pokies often have a low RTP.
How to pick a pokie
A detailed answer to this popular question is given in several articles of our New Zealand gambling guide. To avoid repetition, we draw your attention to several basic criteria for choosing the pokies.
The return to the player – the higher it is, the better. This is a universal rule. But remember that not all games have a fixed RTP. Sometimes, to achieve the maximum return, you need to perform certain actions. Also, do not forget that it works only for a long period of time.
Dispersion level – somebody likes small payouts in almost every spin or long bad streaks, somebody not. Choose a pokie that matches your ideas about comfortable gameplay.
Betting range – are you satisfied with the minimum and maximum limits? Make sure of this before you play for money.
Special requirements – some online pokies allow the user to affect the chances of winning. For example, a bonus bet increases the return to the player, or a jackpot requires a stake of a certain amount. A new trend in New Zealand gambling is games that require players to have special knowledge or skills. Consider these features to improve your chances.
A theme, certain bonuses, graphics quality, user interface – are subjective parameters, so our recommendations are unnecessary here.
In order not to miss any exciting news, we recommend you to check out updates of pokie reviews.
How to beat the casino pokie?
We focus on strategies, progressions and pokie betting systems in a special section of Casinoz the gambling guide.
Our New Zealand experts give recommendations on playing pokies only when it really allows the client to affect the return. As a rule, such an opportunity is available on pokies with bonus bets, unique prize rounds, multi-level systems or jackpots.
How to play casino pokies for free in New Zealand?
At Casinoz New Zealand, you can try online pokies for fun. Demo versions come with most of the reviews. We offer only licensed games, so you can be sure that the free version will not differ from the game at the casino for money.
Run free online pokies directly on the site. You don't need to download and install them. You do not need to register to take advantage of this opportunity.
Free pokies allow you to learn the rules, get used to the interface, have fun and understand whether you like this game or not.
How to play casino pokies for money in New Zealand?
There are no pokies for real money at Casinoz New Zealand. We only offer demos for free testing. To run pokies for money, you need to click on the link to one of the online casinos that provide such services.
Under the review, we list the best online casinos which offer the pokie. Expert reviews and feedback from New Zealand players will help you to choose a perfect casino.
Pokie reviews at Casinos
Articles about online pokies at Casinoz are provided by experienced New Zealand authors with a great experience in casino gaming and gambling. They test the pokies and discuss their features in thematic reviews.
We offer a common structure for all pokie reviews on the website. Beginners at online casinos are recommended to look through all the sections.
General description – basic information about the pokie, the list of features, rules of combinations and other general data.
Symbols – a detailed description of the standard and the special symbols used in the game.
Bonus games – description of free spins, prize rounds and other bonuses.
Jackpots – jackpot description, progressive amounts, drawing terms and other nuances.
Interface – description of the controls, design, settings and so on.
Conclusion – conclusions with a list of the main advantages and disadvantages.
Where to play – a suggestion where to can find an online pokie to play for free and for money in New Zealand.
You can write a review about the pokie and give it a rating below the review. We don't moderate customer opinions expressed within the rules of Casinoz and publish them with the author's spelling, punctuation and style.
Conclusion
Even an experienced casino player can get lost in an incredible variety of online pokies. It's too much of them, and not all of the games deserve your attention. Some pokies get outdated. The quality of others could bet better.
In order to save your time, read pokie reviews at Casinoz New Zealand. Our experts test new popkies every day and unbiasedly compose the lists of pros and cons.
The best new products fall into the monthly top 3, so do not forget to visit this page.
Good luck at the casino!