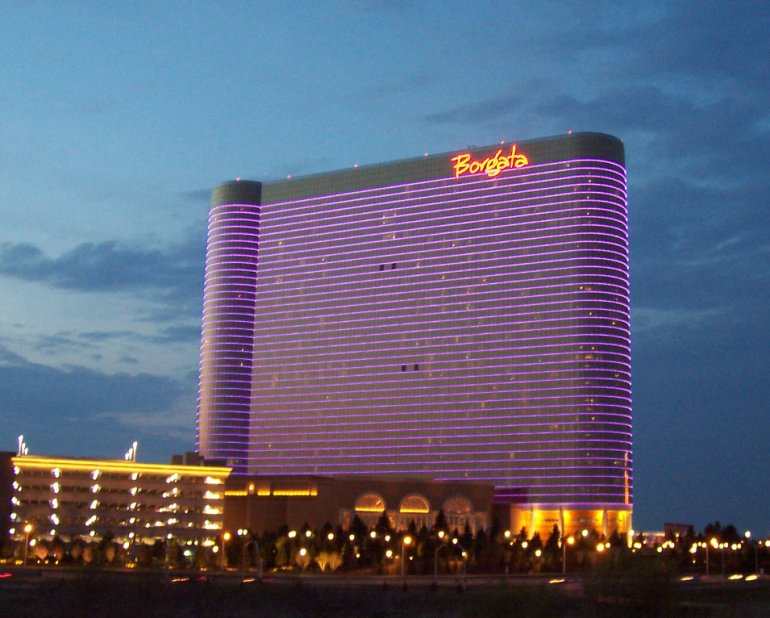 Unlike other Atlantic City casinos, Borgata offers its customers a more luxurious entertainment than neighboring competitors. The administration of the complex wants to see players not only while gambling but also having dinner in its restaurants, staying at night at its hotel, having fun in clubs and visiting its shops. There are not so many places where you can fully relax not only while gambling. This will take a few days in order to take advantage of all the offers of Borgata Hotel Casino & Spa.
History of Borgata
The history of Borgata dates back to 1999, when Steve Wynn was going to build a new resort called Mirage in Atlantic City. He spent $330 million dollars to on a 4-kilometer tunnel from the Atlantic City Expressway to the new resort. This caused major controversy, since the tunnel could be environmentally unfriendly, and Donald Trump sued Wynn for it. Steve Wynn was forced to cancel the Mirage Resort project in Atlantic City. However the casino was opened, though without Steven Wine.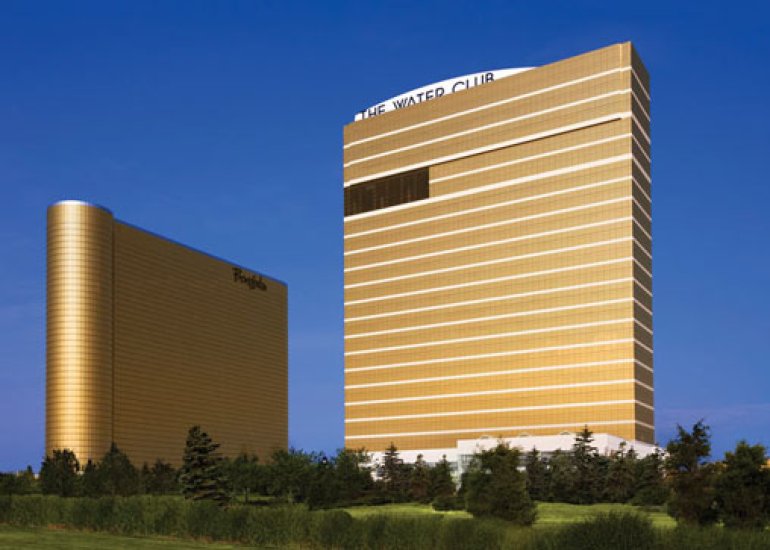 Borgata Hotel Casino & Spa was built in July 2003. Since that time it has been serving as a model for the creation of a new atmosphere of the city. This gambling establishment is a joint venture of Boyd Gaming and MGM Mirage. The Main Tower at Borgata is the third tallest building in Atlantic City. It is visible for many kilometers because of its facade covered with gilded glass. Borgata, which is translated as village from Italian, was the first casino built in New Jersey whose costs exceeded one billion dollars.
The appearance of a high-class casino hotel in Atlantic City provided neighboring casinos with an example and showed the potential of the new market. When most regular customers of Atlantic City casinos were pensioners with fifty dollars in the pocket, Borgata was trying to attract adult players of middle class, who had previously avoided playing in casinos, with their wives.
In general, Boyd Gaming Corp., which owns Borgata, invested in the hotel and casino about $2 billion. The initial construction cost $1.1 billion. However Borgata had been so successful that a two-phase plan for a significant expansion of the resort was elaborated a few months after its opening.
The first part of the expansion cost $200 million took place in 2006. It increased the casino area, added the largest poker room of the city and the new fine dining restaurants under the direction of renowned chefs Wolfgang Puck and Bobby Flay.
In the hope that Borgata would attract more customers, Bob Boughner built the Water Club for $400 million in 2008. It is an ultra-luxury boutique hotel with 800 rooms, which is decorated with gilded glass that fits the design of the Main Tower at Borgata. The interior of the Water Club can boast luxurious design and great spa in the sky with panoramic views of the bay and an ocean from the 32nd floor.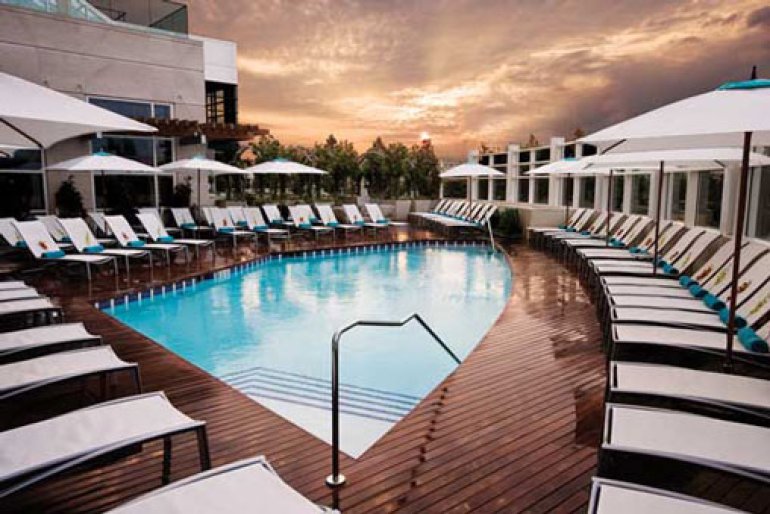 Borgata helped to transform Atlantic City from a simple gambling town into a fashionable tourist resort, offering visitors high-class shops, restaurants and entertainment apart from gambling.
"It changed the conventional wisdom of what it meant to be a successful casino ", said Bob McDevitt, president of Local 54 of UNITE-HERE. - "Without Borgata, Atlantic City may have been smothered by the competition brought on by the explosive growth of casino gambling in surrounding states in recent years. In particular, Pennsylvania would have devastated Atlantic City if Borgata had not been founded".
The inspirer of Borgata and former CEO Bob Boughner and his team created in Atlantic City a unique type of casinos that resembles mega resorts in Las Vegas. They wanted to satisfy customers who require luxurious shops, restaurants, nightclubs and spas, but the task was to overcome the perception of Atlantic City as the second-rate place on the gambling market.
The combination of fashionability and glitter of Las Vegas allows Borgata to remain the leading casino of the city, one out of each five dollars that players lose in Atlantic City is earned by Borgata.
Andrew Zarnett, a managing director at Deutsche Bank, predicts that Borgata will have a great future. The casino will keep occupying a leading position on the gambling market in Atlantic City, despite the increasing competition from neighboring states.
"Borgata has become successful thanks to the excellent location, excellent design and gifted managers", he said. - The significant investment in the research of the market at the beginning of the development helped to understand the customers and implement a well-thought-out plan.
Features of Borgata Hotel Casino
The main wing of the Borgata Hotel has about 2,000 rooms. The bulk of the rooms are standard, but there are also a few luxurious rooms, including Piatto Suites whose area is 140 square meters, and two residence rooms of 370 square meters. All rooms are equipped with modern amenities, such as high-speed internet access, floor-to-ceiling windows and granite countertops. The prices at the hotel may vary from about $180 for a night in a standard room to $1,200 or more per residence.
The boutique hotel, known as the Water Club, has 800 rooms, five swimming pools and three large conference halls.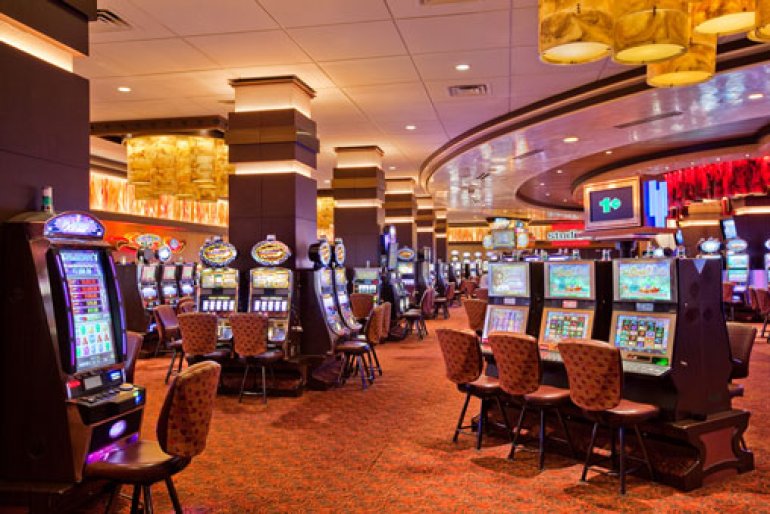 The area of gambling halls at Borgata Casino is approximately 15,000 m2. It offers 4,100 slot machines, 200 gambling tables and daily tournaments in a big poker room. The casino has a multi-level loyalty program called My Borgata Rewards.
The first level is a red card that is provided for all players for free and offers the basic functions, such as the compensation for bets while playing slots and other games.
The second level is a black card that is provided for those who have spent $1,000 at the casino during the calendar year. This card offers other benefits, such as free parking and discounts at restaurants and in shops of Borgata.
Pioneers of Atlantic City
It has been said that Borgata was built on the basis of the needs of demanding customers, so the casino offers its customers a more luxurious entertainment than neighboring competitors. Immediately upon entering Borgata Casino, the visitors will feel an atmosphere of elegance and exclusivity. They will surely notice glass sculptures in the lobby hall and beautiful and big chandeliers, hanging from the ceiling. Receptionists are friendly and they always ask if they can be useful for you. The service of customers at the highest level is a rule of the casino.
Employees get out of visitor's way, so that everyone can feel like a VIP. The area in front of the elevators is full of plush sofas and chairs. There are paintings on the walls. The bar is available. The elevators have screens on which old American movies are shown. The corridors of the upper floors, where the rooms of casino customers are located, look elegant and are decorated with paintings and statues.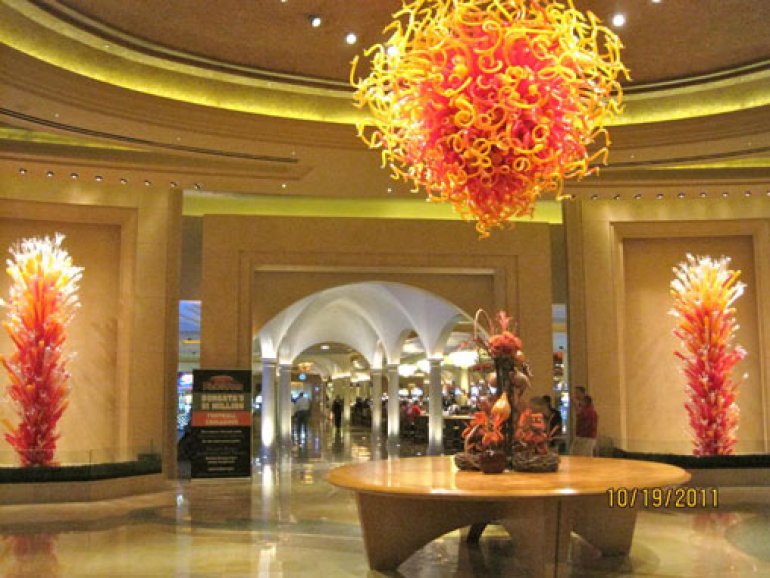 Borgata is a pioneer in Atlantic City. For example, it was the first casino, which stopped using coins in its slot machines. The slots started spitting out paper tickets instead, on which the prize amount was written. The players could redeem them for cash. At some casinos it was said that the players loved the traditional sound of coins, but the other casinos of Atlantic City rapidly adopted this new technology. Now it can be considered as the industry standard.
"Candidly, we were concerned," said Balance, a president of Borgata. "If people didn't like our innovation, we had all our slot machines stocked with coins. We were prepared to go back if necessary. We had coins in the hoppers for two years before we took them away."
Borgata Poker
Borgata has the most modern and the largest poker room in Atlantic City, which was opened on June 30, 2006. The more experienced usually play there compared to the other poker rooms of the city. The customers are usually younger. There are 85 tables in the poker room whose are occupies 2,000 square meters. Most of them (58 tables) are located in the main hall. There is also a hall for the high rollers, which has 18 tables. In addition, the casino has a separate room with 9 tables intended for the final stage of tournaments. It is equipped with the audience riser.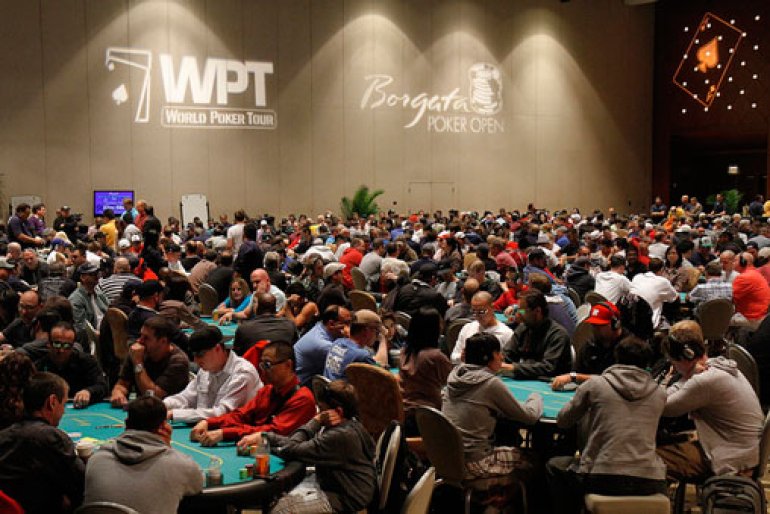 The daily $100+20 buy-in tournaments are held in the poker room. Borgata organizes weekly tournaments with a guaranteed $75,000 prize on Fridays. Each year WPT Borgata Poker Open tournaments are held at Borgata as a part of the World Poker Tour. They attract many famous players from all over the world. For example, one of the winners of the WPT Borgata Poker Open was Daniel Negreanu. And in 2015, the Russian player Alexander "Academician" Lakhov almost won this tournament. Asher "misclick" Conniff, a humble grinder from Brooklyn, defeated him in heads-up. He suddenly won over a million dollars in two WPT tournaments.
Entertainment
Seven nightclubs, including Sunbar with a pool and Gypsy Bar with live music, are available on the territory of Borgata. There are two centers (The Music Box and Event Center), where the most famous actors, comedians and musicians make their performances. Borgata is able to offer magnificent high-quality entertaining shows to its visitors. This is another service that makes this hotel and casino more than just a place to gamble.
Borgata has quickly gained a reputation of a leader in the field of casino entertainment, showing such headliners as Billy Joel, Bon Jovi, Eric Clapton, Mary Kerry, Rihanna, Aerosmith, Depeche Mode and others. In addition, the famous stand-up comedians Bill Cosby and Don Rickles also appeared on the scene of Borgata.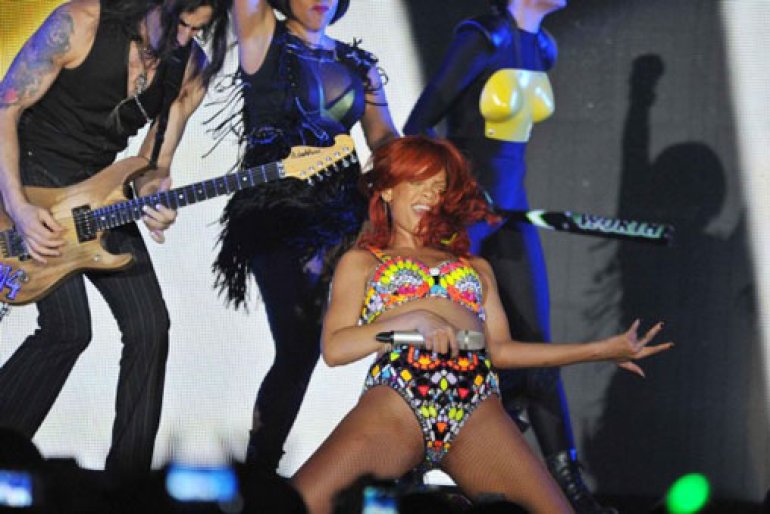 The visitors can also enjoy a recreational center called Spa Toccare that occupies the area of 5000 square meters and includes a spa, fitness center, indoor swimming pool and gardens. Eleven retail stores can be found on the territory of Borgata.
Despite the fact that Borgata is proud of its tradition to offer visitors a full range of services, including a luxurious relax with spa treatments, shopping, entertainment, great restaurants, the casino still remains its major attraction and occupies almost the entire territory of Borgata.
Borgata Babes
Borgata has its own characteristic feature that helped it to become popular. It is sexy cocktail waitresses. In fact, they were hired to "please the eye" of visitors. The so-called Borgata Babes wear tight-fitting corsets, stockings and high heels. The visitors of Borgata select the top 12 Babes every year. Then they appear on the pages of the annual Borgata calendar.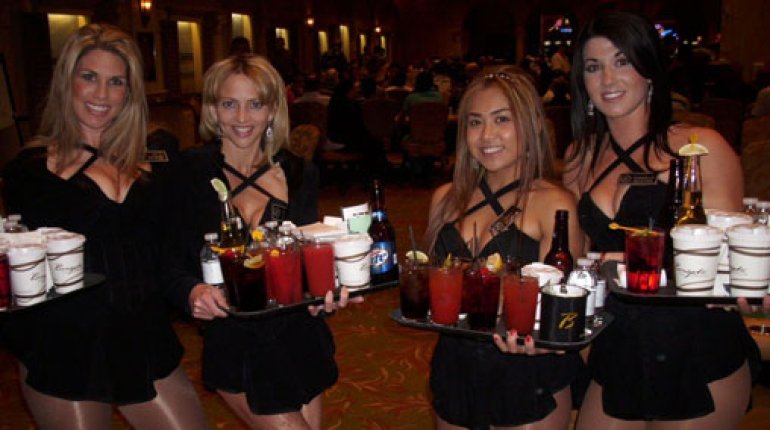 The casino has become famous thanks to the Borgata Babes. Several years ago, 22 waitresses sued their employers, making statement that the policy of a casino regarding the way they looked like forced them to work as sex objects and adhere to standards based on gender stereotypes. This policy included requirements for the uniform (tight-fitting mini skirts, black stockings and high heels) and for maintenance of weight, since the waitresses could not gain or loss more than 7 percent of their body. For example, if the waitress weighed 70 kilograms while the employer was hiring her, she will be fired if she gains 4.9 kilograms. The casino periodically weighs its babes and strictly controls the requirements for weight. That is why ladies complained that they were forced to use laxative drugs before weighing, stop eating sweets and use fat burner supplements to somehow maintain their weight.
However the court ruled that taking into consideration the fact that this practice of Borgata applied both to males and female (there are male babes at Borgata, although their number is 14 times fewer) the females suffered no more than men, so there was no gender discrimination. In addition, the judge reminded the ladies that from the beginning of their working activities the plaintiffs were fully aware of the fact that they had been hired "because of the way they look like and their bodies" and their duties had included to use their attractiveness.
Restaurants
It is a real problem to have dinner at Boragata. It is very difficult task for visitors, since the casino has twenty-two restaurants of all types with famous top chefs. Each restaurant has unique cuisine and style. There is no sense in enumerating them all, let's about the most prominent ones.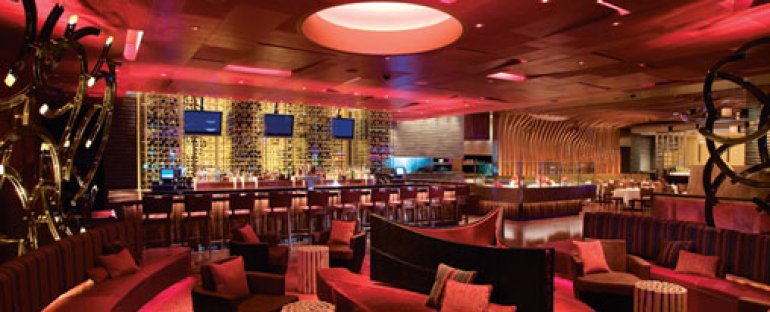 Wolfgang Puck is decorated in a rustic style, where you can dine with the feeling that you are sitting in a patio.
SeaBlue is glazed with a blue glass that gives the effect of the presence of
water behind the wall.
Old Homestead is more traditional and its chef is Romeo DiBona
Izakaya is a modern Japanese pub. It has its own unique look with patterned walls. Customers enter this restaurant passing through a glass bridge. Then they encounter the owner. This is a luxurious restaurant with deep colors, plush red chairs and large paintings. You can always hear simple and positive tunes without the words, in contrast to the typical modern Japanese rhythms. This is done in order to preserve the atmosphere of Borgata.
All restaurants of Borgata provide an atmosphere that goes beyond simple food consumption.
Scandals and Records
An unknown granny Patricia Demur from the small town of Denville glorified Borgata Hotel Casino & Spa on May 23, 2009. Her series of 154 winning rolls in craps lasted for 4 hours and 18 minutes. It is 1 hour and 12 minutes more than the previous record that actually was valid for twenty years! It should be noted that Patricia played craps for the second time in her life, and that was enough to go down in history. According to the data of casino, Demur started playing at 8:13 p.m. by buying chips for $100 and finished after midnight. Patricia refused to disclose the payout amount, but experts believed that her winnings had reached millions of dollars.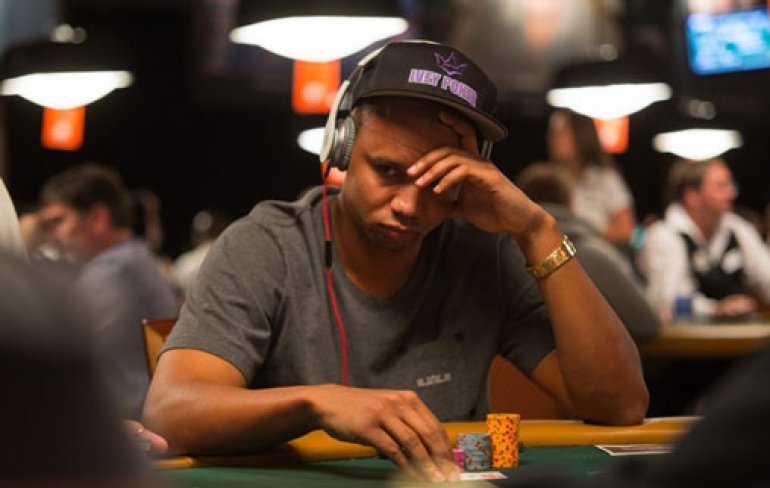 Phil Ivey, a legendary pro poker player and an owner of nine championship bracelets of the World Series of Poker, became a hero of the scandal at Borgata Hotel Casino in 2014. Casino refused to pay Phil $9.6 million won in baccarat and accused the player of fraud. The lawsuit of Borgata in Federal Court stated that Ivey and his companion had used the edge sorting method to win. It was a direct violation of the rules of the casino. This story continued in the summer of 2015 when Phil Ivey filed a counter lawsuit against Borgata Hotel Casino. It turned out that the casino for some reason eliminated the deck of cards, which had been used by Phil to play. This deck was the basic piece of evidence.
Well, the outcome of this story is not clear. A rehearing of this case will take place in December 2015. However it should be noted that it is not the first litigation of Ivey with Borgata. Ivey lost practically identical trial with Crockfords Casino, but the court found that the player had cheated the casino inadvertently that, in fact, meant his innocence. Nevertheless, Crockfords did not pay out winnings, which exceeded $12 million.
Conclusion
Borgata Hotel Casino and Spa is a high-class gorgeous mega resort, where not only fans of gambling can relax and have fun. Despite the competition with the casinos located in Pennsylvania, Borgata keeps flourishing and almost does not notice the recession on the U.S. gaming market due to the concept of "nongaming" attractions.