Meet Valery Molochov is another "genius" of mathematics, who claims that he managed to do a miracle i.e. BEAT ROULETTE. At RouletteSekret website he sells "Secrets of Roulette - Online technology " package helping anyone easily win at online casino (according to the creator, of course).
On the main page you will see a video where Valery for more than ten minutes pours the water out of a sieve, praising his system and promising mountains of gold. He generously uses abstruse terms, realizing that mathematics will not waste time on this nonsense, but simple people may believe it.
Valery speaks about four secrets of roulette, the importance of system of optimizing bets, draws parallels between visiting a casino and doing business calls to turn the game into money - in general all the standard stuff full of meaningless words.
He promises a product which has no analogues on the Internet. Two strategies and three systems have to teach clients hoe to determine when and how much to bet to succeed. On a separate page, you can read the reviews of those who have already managed to "break the casino " by this method. Adding your comments is, of course, impossible.
Infomercial voiceover several times mentions professional roulette players. Although any person with the slightest understanding of the casino knows that it belongs to the category of games with negative expectation, and it's house edge can not be changed. In other words, there are professional roulette fans, but there are no professional players who without violating the law could have earned on it.
But the funny thing is that the author of this idle talk warns listeners about online cheaters, citing the Martingale system as an example and people selling it in various forms. We certainly agree with that, but that "Secrets Roulette - Online Technology" is generally a cat in a bag, and it smacks of fraud even stronger.
Carefully listening to the advertising twice, we did not find a single word in fact in it. How the customer will win at roulette? What is the principle of the product? How will it eliminate the house edge? Meaningless terms absolutely do not explain anything. Their role is to give a smart look to nonsense of Valery Molochov.
We have long been working in this field to think that these incredible promises that can not be sustained. And you also call to be extremely careful. Buying this garbage is not worth even its price (it is $61). Thus, you will enrich the creator and the further development of this cheating. Who knows how many people can suffer from it?
Copyright package "Secrets Roulette - Online technology" claims that its system operates according to mathematical laws. We suggest you reading the article of Professor of Mathematics Eliot Jacobson "Betting systems and casino advantage". There, he explains why this method can not give a stable result.
And finally we repeat once again : removing the house edge at roulette is IMPOSSIBLE. Until now, no one could do it - its just words. If someone can do this, he is guaranteed a Nobel Prize and world fame.
Anyone who sells a product that promises a stable winning at roulette is either a crook or a naive simpleton who still did not have time to burn. Valery Molochov can be safely attributed to the first category, because he claims that he constantly uses this product to win at online roulette.
Be careful - around the casino there are always many cheaters! They are lured with easy money on the internet, which is possible by the credulity of inexperienced players.
P.S. I must say that in the mailing list of Valery Molochov, he often writes the truth about online casino. He warns that the betting systems do not work, they can not Beat the RNG, and so on. Only here it he talks about his miraculous software. Like, there really is the only effective program "Secrets of roulette - online technology".
UPD 25.04.12
These guys are also very daring. After reading this article, they decided to use Article 159 of the Criminal Code, and to add Article 189 (Blackmail) of the Criminal Code.
The letter very clearly shows what kind of people are behind these " secrets of roulette " and " the best method of making money in the Internet."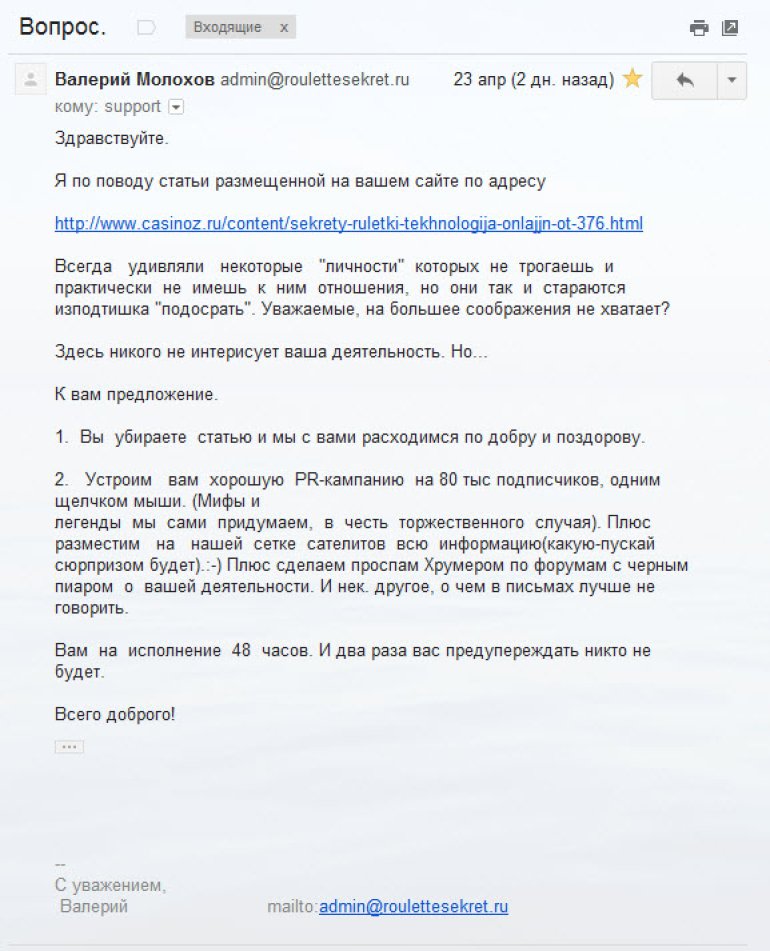 UPD 24.07.12
Its very interesting to see the incredible conversation of these cheaters about blackmail (roulettesekret.ru/blog/news/casinoz_santaj.html) with various nicknames talking about faked letters , they made themselves, not to mention those sent to them by other participants . And of course our response to the blog was in the spam. What it looks like you can look at this photo.
Last month we has a big DDoS (hacker attacks) and the peak load reached 250 Mbit , which also speaks about the character of Golden Mountains by Valery Molochov, or may be still Vyacheslav while there, Moloch - small fry, it will be expensive :))