Surely you are familiar with video poker in general. This game of chance, which is a very successful symbiosis of table poker and gaming machine, is spread all over the world. It is in demand among customers of online casinos and offline establishments. Dozens of famous software developers for online gambling offer their versions of classic models and produce unique variations.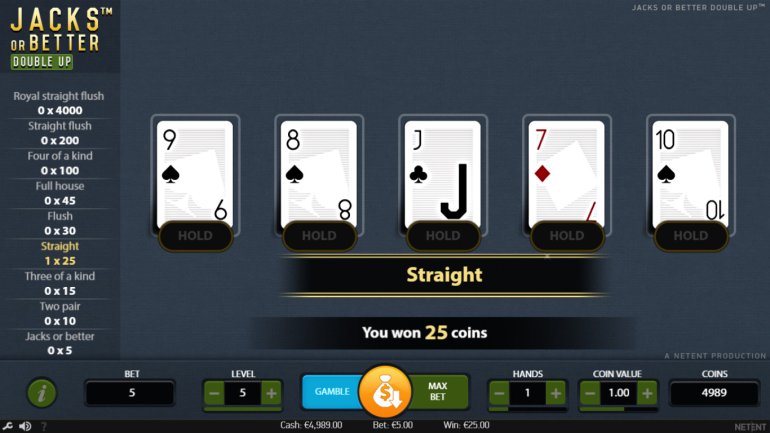 Why is video poker so popular? The gameplay is not diverse. Graphics are rarely exquisite. The animation is reduced to minimal effects. However, every day tens of thousands of users sit down for real or virtual video poker machines to try to beat the casino.
What attracts them to video poker? First of all, the low mathematical superiority of the institution.
In many games, it does not exceed a few tenths of a percent, and in some cases, you can even get an advantage over the casino. Of course, for this, you need to master a special strategy of the game, as well as learn additional techniques, but the sheepskin is worth the dressing.
Experts call Jacks or Better The best kind of video poker. They recommend that amateurs start with this model, and many professionals play Jacks or Better all their lives, preferring this version to everyone else.
The following are the main arguments they put forward in explaining their choice.
1. Jacks or Better has a high RTP
As mentioned above, this kind of video poker is quite a high level of theoretical return to the player (Return to Player, RTP). The traditional Jacks or Better 9/6 has an indicator of 99.54%. Accordingly, the mathematical advantage of the casino is 0.46%. For comparison, on European roulette, we are talking about 2.7%, and in most modern video slots the superiority is more than 3.5%.
This is the most important characteristic for pragmatic customers who want to win at the casino in the first place. That's why they prefer the monotonous gameplay and boring design of poker machines to exciting bonuses and entertaining animations slots.
Important clarification:
Return 99.54% can be achieved only if you play at a rate of five coins. In this case, there is an inflated payout for the Royal Flush combination.
Do not forget to check all the characteristics if you get acquainted with a new model for you.
2. Jacks or Better is a very common game
There are more profitable varieties of video poker, but they are much harder to find. Moreover, some of them are found only in individual real casinos, that is why most users can not afford to play them regularly.
Jacks or Better is available everywhere. In any gambling establishment offering video poker, there are several such devices. If a software developer for Internet gambling produces gambling games of this type, there will also be Jacks or Better in his portfolio.
Let's agree, it is very important to be able to play your favorite gambling game at any time.
3. It is not very difficult to play Jacks or Better correctly
A separate basic strategy has been developed for each type of video poker. If the classical rules change, it should be amended accordingly. The only way to achieve the highest theoretical return and to reduce the mathematical superiority of the institution.
Strategy of the game is not very complicated. Moreover, it is intuitive. Most of its points seem reasonable, and a few less obvious recommendations are easy to remember. In many other versions of the game, everything is much more complicated.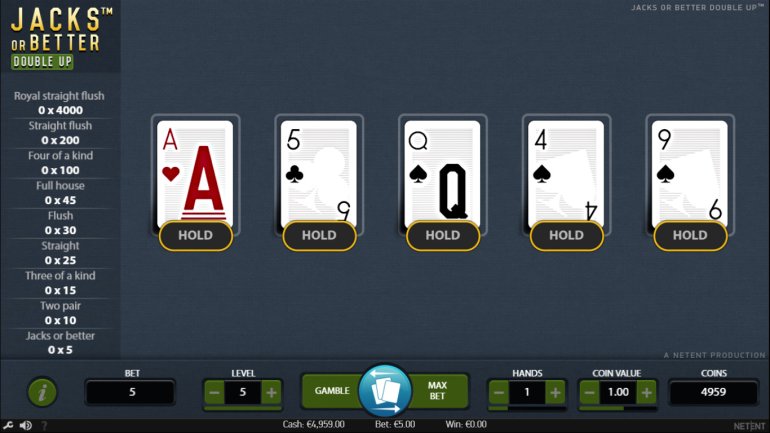 Experts advise learning video poker on the example of Jacks or Better, considering it the basis of the basics. In the future, it will be easy to learn the strategies of other types of this game.
Learn the theory and practice especially comfortable in online casinos by running video poker Jacks or Better for free in the demo version. There no one will forbid a beginner to use cribs. The absence of the dealer and neighbors on the table allows you to play with a comfortable speed. A reference section describing the rules is always attached to the model.
To understand the nuances of the basic strategy Jacks or Better will help a separate article at Casinoz.
4. The Jacks or Better low-risk factor
If you do not find fault with the nuances of using mathematical terminology, this indicator can be called variability, variance or volatility. The higher it is, the greater the deviation from the theoretical return during a given session. In games with high variability, there is a chance to get a large payout in one round, but also a black streak can be prolonged, which is dangerous with a small bankroll.
In Jacks or Better volatility is low (for comparison, it is half as low as in Double Double Bonus Poker). Poker combinations are often formed during the gameplay, but large payouts are rare.
Let us explain that this or that level of volatility is a feature, not an advantage or disadvantage.
It is easier for novice users with limited financial capabilities to keep the situation under control if the risk factor is low. That's why in this case, a low variance would be a plus.
The low volatility of Jacks or Better video poker will also help customers who like to play for a long time in the casino, but do not have a significant bankroll. Sticking to a moderate range of rates, you can stay afloat for hours, even if fortune is not on your side, and you have not thoroughly studied the basic strategy.
5. Anyone can afford to play Jacks or Better
Usually the minimum betting threshold in video poker Jacks or Better is very low. It can start with a few cents, making the game available to all customers. On the other hand, devices with high maximum amounts attracting high rollers are common.
At online casinos, it is not uncommon to place machines in which you can bet in an incredibly wide range: from micro limits to several thousand euros.
6. Jacks or Better can be played on multiple hands
In some varieties, the multi-hand option is available. This is an opportunity to bet on several hands in one round. This feature is not provided for all video poker, but in the case of Jacks or Better, it is implemented in the models of many major providers.
After receiving the cards, you decide which ones to keep. They are duplicated on all lines. Then new cards are dealt with each hand from separate decks. Payments are charged separately for all positions.
7. Progressive jackpots are played in Jacks or Better
Some gambling developers implement Jacks or Better accumulative jackpots in video poker. Usually, to become the owner of this amount, you need to collect Royal Flush, playing five coins. The nuances should be clarified in each individual case.
8. In Jacks or Better, there is a doubling game
Many customers like the opportunity to try to double the amount received during the round. For example, the risk game is often run if the payout is minimal.
It takes place in the format of cards comparison. Need to randomly access one of the four sheets. If you manage to beat the card of the conditional dealer, the winnings will increase twice. You can also lose this money or stay on your own.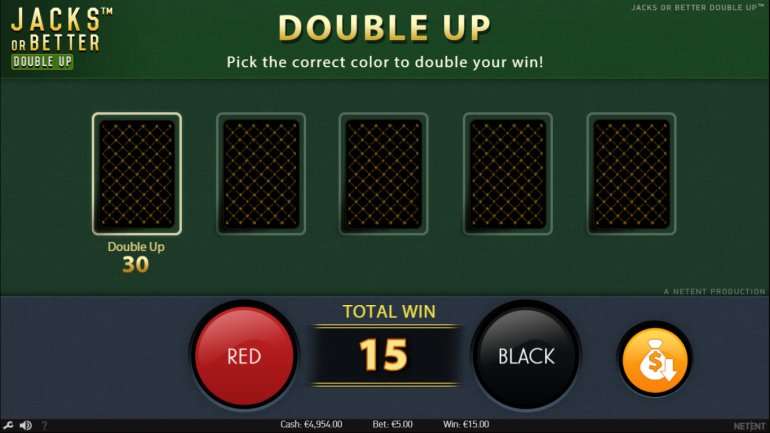 Less often, the game is presented on doubling in other versions. For example, you need to guess the color of the card.

9. Casinos hold tournaments on a Jacks or Better
Currently, video poker tournaments are not as popular as in the old days, but they are still in demand among customers of many institutions. Jacks or Better are traditionally among the models on which such events are arranged.
Rules of participation, availability, and size of entrance fees, the principles of determining the winners and other nuances should be carefully studied in the official sources of information.
10. Jacks or Better adapted for smartphones
This is one of the first versions of the game released for mobile casinos. Now you can play Jacks or Better on almost any smartphone or tablet. All novelties of this genre come with a special version of the interface designed for touch screens.
Other features Jacks or Better
Next, let's look at some important issues that should not be ignored if you intend to play for money in Jacks or Better.
Jacks or Better in bonus programs
In most American offline casinos, video poker players enjoy additional benefits. They get a variety of free services and gifts, they are charged more comp points, they can count on cashback and so on. This allows professionals to make a living playing video poker.
If you are going to play Jacks or Better often in Las Vegas or Atlantic City, read books and articles by experienced players. For example, Jacks or Better Edge by Linda Boyd.
Internet casino operators have a more cautious attitude towards all video poker. Often, this type of gambling can not be used during the wagering of bonuses. They may be subject to restrictions on comp points and so on. Keep this in mind if you love bonuses and other promotions.
How to choose jacks or Better video poker?
Finally, a few useful recommendations for novice fans of video poker.
Look for Jacks or Better 9/6 – in this model, the full house brings nine coins and the flash brings six. Also common is the 8/5 game, in which the same combinations yield eight and five chips.
Check the paytable - sometimes the developers of gambling games make changes to the standard odds of calculating winnings. This affects the theoretical return.
Be wary of bonuses – all kinds of prize functions do not always play into the hands of the client. Implementing bonus options in the model, the creators usually tighten some basic rules.
Choose original games from reliable providers - Play only licensed Jacks or Better known brands. Once and for all, give up fake video poker.
Tips on how to win in Jacks or Better are published in special articles presented in the thematic section of Casinoz.
Conclusion
Do you love Jacks or Better? Do you often play video poker for money or do you prefer the free mode? Are you ready to Supplement the list of advantages of this variety with your options?
Share your opinions in the comments. Write reviews about the game, list your favorite models, boast of large payouts.