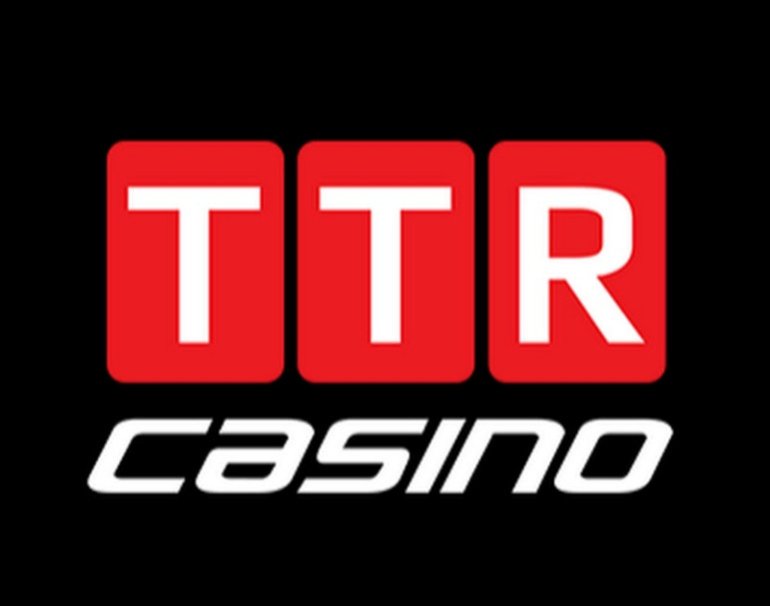 Actually, we have not met such an inadequate personality before. Let's tell everything in the right order.
TTR is a well-known guy among those who are interested in gambling. His reputation can be compared to junk mortgages Fannie Mae and Freddie Mac in autumn 2008. He is supposed to be a famous addicted gambler, and his condition made him indebted to many reputable persons.
Considering his absolute inadequacy, he banned his creditors on his forum and sent them to the four winds.
He used to be the owner of an online poker forum and enjoyed stealing content from other affiliate sites. He pretended that it was not him and blamed other users. In response to demands to delete all the stolen articles, he did not respond or asked the owners of the initial content to send all references to the stolen content in a polite manner. Otherwise, he did not agree to delete the articles. Can you imagine that someone has stolen 50-100 of your articles? What do you think of this? Is this nice?
The way of communication in his blog does not seem to be sophisticated. However, let's presume that it is just a peculiar manner. The author is just looking for the target audience to tell what honest, frank, and intolerant of any deception and fraud he is.
Frankly speaking, despite numerous rumors фищге his negative character, we believed in stories about this prosperous guy and his beautiful life. And when he opened his casino and started inviting partners to participate in the affiliate program on his forum, we contacted him.
Take a closer look at our correspondence:
casinoz: - Hi, how can we become an affiliate?
ttr: Hi, what is your traffic? I do not accept scams, spam, etc.
casinoz: - Everything is OK, no bullshit. casinoz.com
ttr: Yeah, I've already seen the description.
I can provide you with 50% VIP for the top position. This should be interesting to you. You can get the maximum traffic on the new site. Register with the casino and send a link to your account. Well, the affiliate program is not provided for those who are engaged in offering teasers and another shit. So, the conversion rate will be great.
ttr: What about our cooperation? Any questions?
I'll give 50% even if we quarrel. I'll pay without accepting new gamblers.
However, 50% should be given in return (Ed.: i.e., it is clear that our resource is good and interesting since he agreed to cooperate in contrast to 20 of his former potential affiliates)
casinoz: we have no questions at the moment. We need only referral links and log in to the affiliate program)
ttr: positions of the top traffic, etc. If there is nothing interesting, then it will be 40%. There are no affiliates among Russian sites. Only Neverfold and latestcasinobonuses.me have one each.
casinoz: Let's start with 40% to have an opportunity to change the terms and conditions... All of these controversial moments with reduction may cause problems. They really annoy and may lead to misunderstandings. It's best to have a deal and forget about the rest. If everything is OK, we will talk about the increase.
ttr: There are no controversial moments, I don't need them. I have two options: standard (40%) and VIP (50%). That's all. There are no special codes. If the volume is good, call anytime on Skype, I'll show stats from your admin. There is no affiliate shaving.
ttr: I only need information and provide the affiliate program. I need information on the site, banners, etc. You should be at the top of google search for TTR casino. Otherwise, I'll not provide the affiliate program just for landing without advertising.
ttr: There is no affiliate program without guarantees for the tops, etc.
casinoz: Well, the top must be deserved. We don't provide top positions for nothing…
ttr: I don't offer the affiliate program with fucking excellent conditions and guarantees (Ed.: What conditions is he talking about?)
casinoz: Banners can be arranged if you design them following our conditions.
ttr: You have nothing valuable at the top. You can remove this. Also, there is affiliate shaving. Well, it is up to you to decide. You have only three good casinos: Joy, Videoslots, and William Hill. As for the rest, they are fraudsters and scammers.
casinoz: We have excellent relationships with all our partners so that there is neither shaving nor fraud.
ttr: Believe me, everyone is shaving on the Russian internet. Open my casino and take a look. I have lost a lot of high rollers. And foreign casinos make a lot of deductions. (Ed.: everyone is shaving, except me)
casinoz: We have high rollers since 2006 :)
ttr: Well, you are lucky) If you want to continue, you are welcome.
casinoz: I.e., you are not interested in casino reviews + banners? (Ed.: we usually don't offer banners right away).
casinoz: Ok, it is your decision...Maybe it's a cool scheme, but I guess it is necessary to promote casinos everywhere where this is possible...
ttr: I do not have anything to promote. My casino had $500,000 bets per the first week.
ttr: I give the affiliate program only to appropriate sites with live users, and if the sites are not ready to adequately rate the product, what should I do? If you don't need money, we have nothing to talk about.
ttr: I need an adequate rating of the resource and the top since the casino is really fucking excellent (Ed.: everything is clear and logical here).
casinoz: I certainly do not know what you mean by talking about adequate sites with real users, but it is difficult to find any inadequacies in our casinoz.club... Have you noticed anything inappropriate on our website?)
ttr: Well, I'm talking about the top. If I give you the affiliate program, you should place my casino at the top.
casinoz: How can we rate an unknown product?.... It should be rated carefully)
ttr: What are you talking about? Test the casino personally. I do not need any affiliates on the Russian market. I don't care!
casinoz: @ I give you the affiliate program, and you do not place a casino at the top @ Does it indicate my inadequacy?)
ttr: This means that I'm not interested in cooperating with your resource. What is my profit? Any visitor can enter TTR Casino from the other website, including latestcasinobonuses.me. By the way, we had a similar conversation with them.
casinoz: And what was a deal with latestcasinobonuses?
ttr: top + correct rating, etc.
casinoz: Have you made an agreement?
ttr: I gave them 50%. I know their owner.
casinoz: I don't see you at the top.
ttr: I did not discuss anything, so the site's rating is lower than Playamo or Betchan. However, they are worse in all respects, even without the top. Well, I wrote the same shit I'm writing to you. You may notice how the situation will change tomorrow (Ed.: see below)
casinoz: We are talking about different things... You just want too much... I certainly do not know the opinion of latestcasinobonuses and other large affiliates, but we don't know how the casino will operate or what happens to you. You may get sick or give up on us... Anything can happen... And we are responsible for our rating... It should be adequate... Anyone will be shocked... The casino has been operating for two weeks and has 10 points... Many casinos have deserved their reputation for years. And this casino was opened by some unknown guy with a reputation far from being flawless)... Where is the adequacy?
We are providing adequate ratings.
ttr: I got it) I'm here if you want to talk)
casinoz: Of course, we can treat this as future merits, but certainly, your casino seems to be inferior to trustworthy and reliable ones...
ttr: I need everything at once)
casinoz: Well, ok...Feel free to contact us if you change your mind)
ttr: I don't give a shit, I am launching two other casinos...
One more thing about his loyal supporters from Neverfold
ttr: There are only losers at Neverfold. I sold my share of Neverfold when I had debts. There are only imbeciles there. I banned everyone in my blog. I have no one in my blog from Neverfold. I have absolutely different audience.
His fans have not yet realized that he is not a blogger. He has become a dude to whom they will lose money. So, they are praising him and generating traffic.
So, here is an example of a nice conversation
So, this douche-balloon wants to be rated better than Playamo. Moreover, even his visitors, loyal gamblers, and fans have found a lot of problems in his casino.
Internal processes have not yet been elaborated. There are a lot of software and support bugs. Problems appear very often. The product is far from being perfect. However, it has already been released. And the owner wants to have a better rating than the reputable and award-winning casinos. This is absolutely incredible!
And, of course, there are some questions to other third-party resources.
Latestcasinobonuses is supposed to be a great resource. It has the APC (Automatic Rating System of online casinos with a transparent and understandable ranking and rating). This is really impressive. However, why is the rating of casinos changed so fast? The casino had 8.32 points and took 23rd place (Ed.: though there are a lot of questions concerning this fact).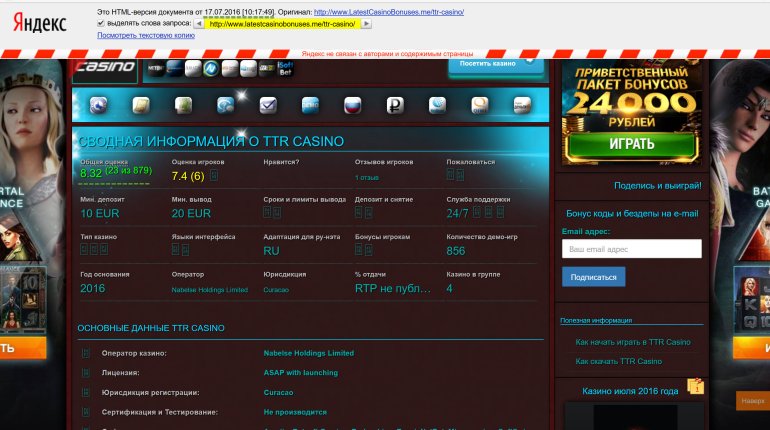 Now it has 8.96 points and is taking 9th place: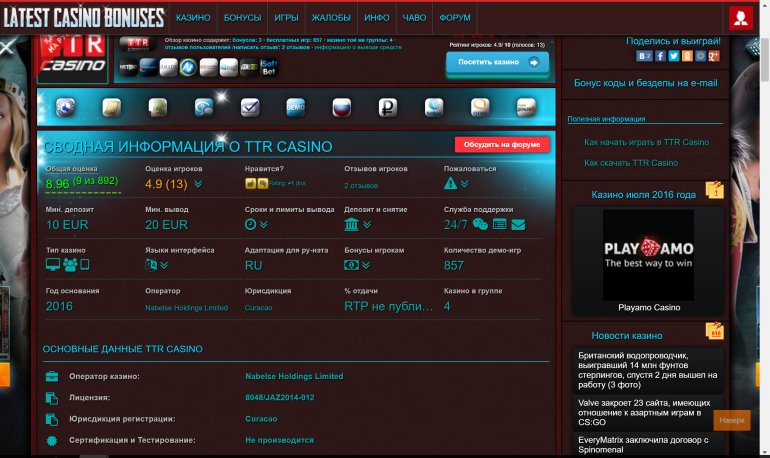 Initially, it was not even present on the homepage in the section Top Casinos. However, then TTR Casino moved to 4th place.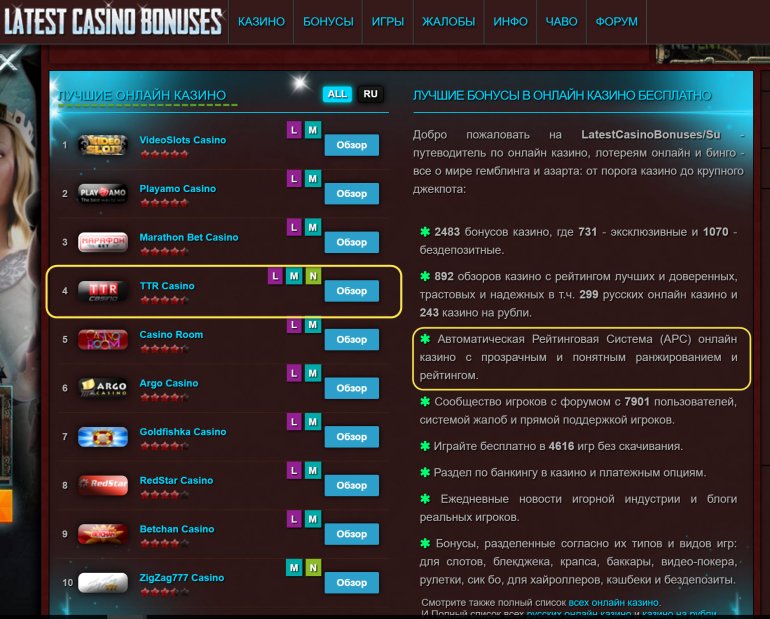 Have they bent? Their audience has a negative attitude to both the owner and the casino.
Now let's see what's going on with European and American resources. We will not take into account little-known mini-sites with updated reviews from Jubise Casino. There are reviews from the sites with a good reputation: Askgamblers and Latestcasinobonuses. Latestcasinobonuses.com has rated TTR Casino with 4 points.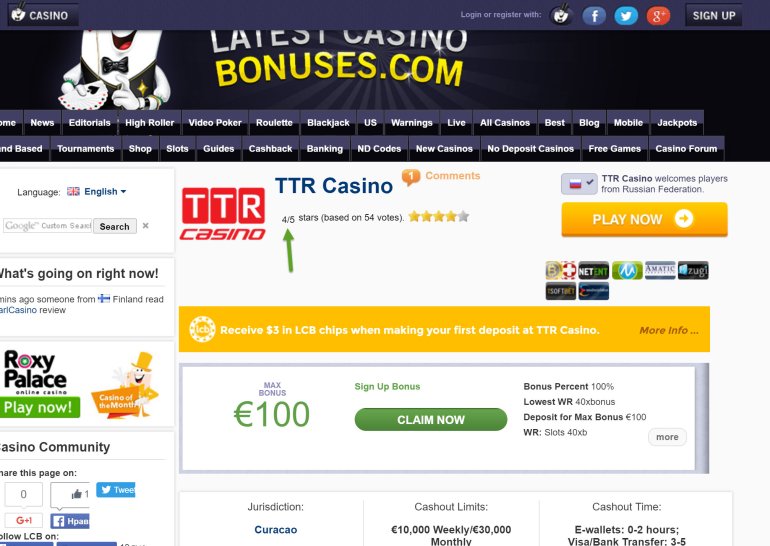 8.38 points by Askgamblers.com (which is higher than the casinos from their certified list were rated!!!).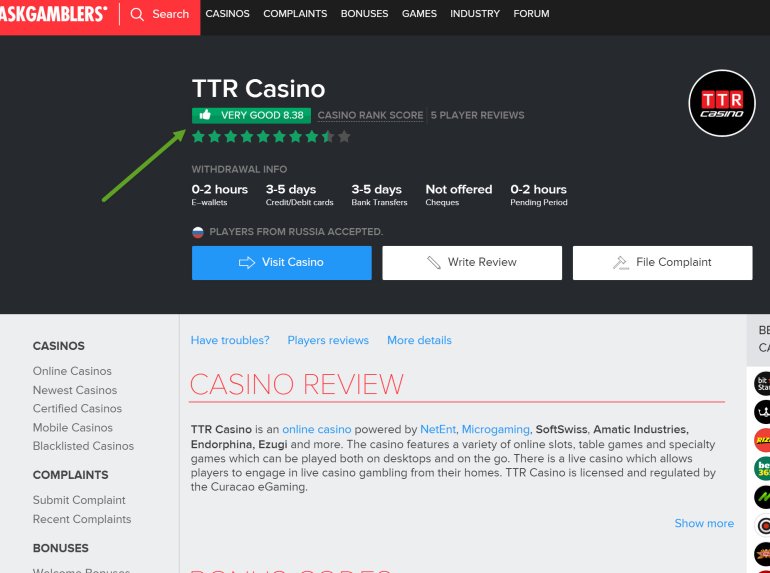 Well, it is hard to believe that this website has amateurs who rate without evaluating the story of a new casino and its owners.
And if the owner's reputation is not taken into account, we can ask a question: is Askgamblers trustworthy? And this is happening even though the owner's attitude to Askgamblers is negative, and he is trying to earn the reputation of the famous brand accusing Askgamblers of corruption.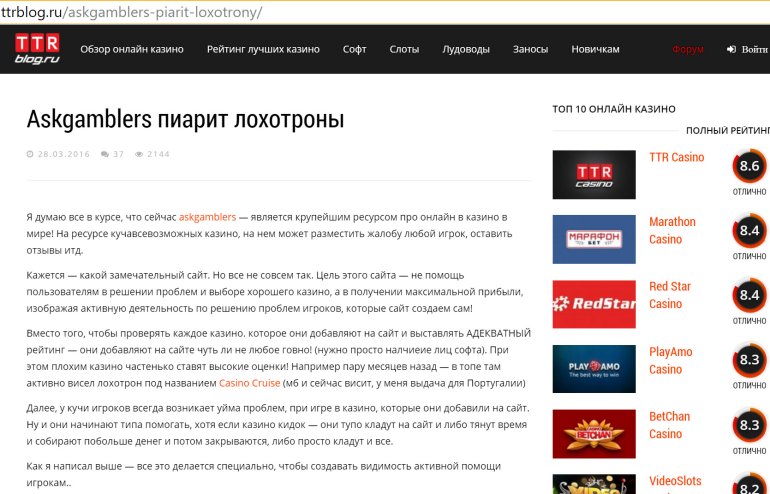 Hopefully, the managers of these resources have simply overlooked the obvious facts. We hope they will adjust their ratings for the casino whose owner deceives partners and friends, offends visitors of his websites and casino in the future. Otherwise, TTR's accusations of Askgamblers should be treated as deserved. We will consider this to be the funeral of the best gambling resource. And who is guilty? TTR??!!
So, let's continue to discuss our story.
So, we have not made a deal with TTR about our partnership based on adequate conditions. We have not agreed to rate highly his raw product created by a person with a bad reputation.
We made a somewhat positive review (without mentioning his bad reputation). However, we warned our readers about the possible misunderstandings, since we take care of our reputation.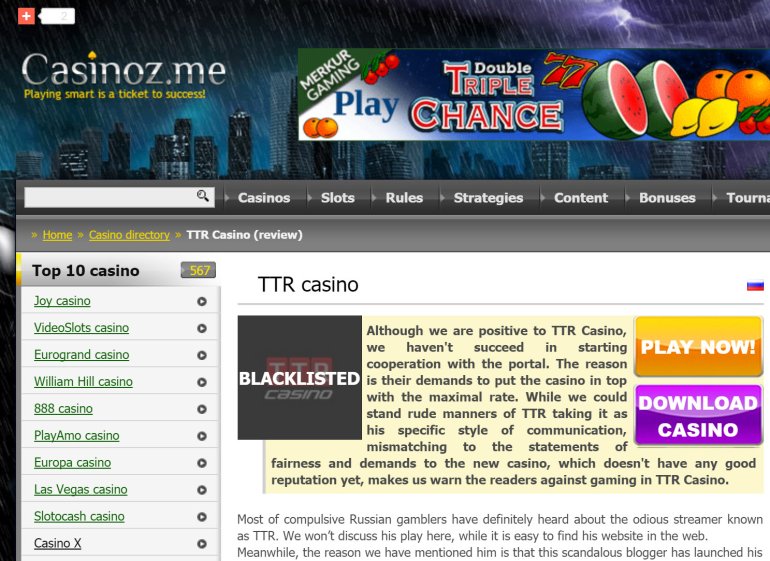 As a result, we received a demand and threat a few days ago:
I recommend that you should delete
a description of the casino from your site
this is a friendly advice
or you will make an enemy
In my face
Well, you have 24 hours. You have been warned!
(Ed.: this is not a real threat, only his fans can believe that this statement is a threat)
So, you can see how he is fighting for honesty.
Everything is clear with his fans (probably they cannot be saved), but those who have not believed in his cheap stories about honesty should think a little:
Do you want to be among those who he has deceived? He deceived his friends and acquaintances.

Would you like to face an inadequate response after investing in a casino due to the owner's bad mood? He can also easily write "fuck you" or "you are an idiot". If you don't believe us, read his forum. Have you ever heard this in your life? If everything is OK for you, feel free to contact him.
To sum up, we want to add that we don't follow the pushy operators' inadequate demands. Needless to say that we do not follow the requirements of such an insignificant person, despite his threats!
P.S. After a polite request to mind his own business, we received an obvious threat in the best TTR's traditions:
You are the dead man!!!
It was followed by a DDoS attack. Probably, it is just a coincidence. It occurred for the first time in four years. We guess that none of our readers doubts the source of the attack.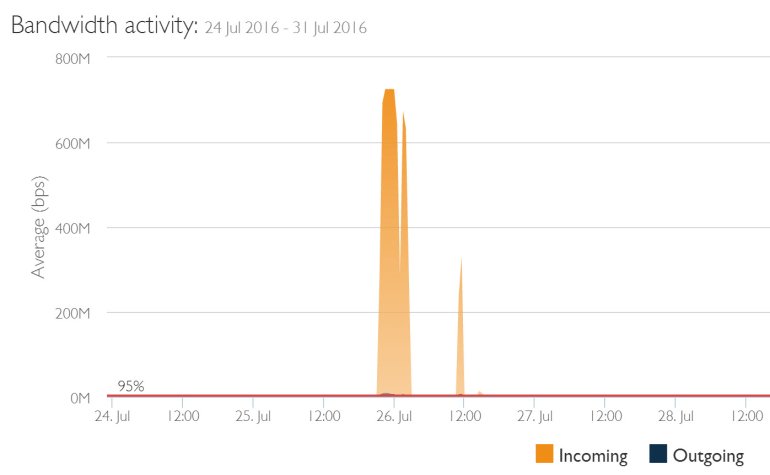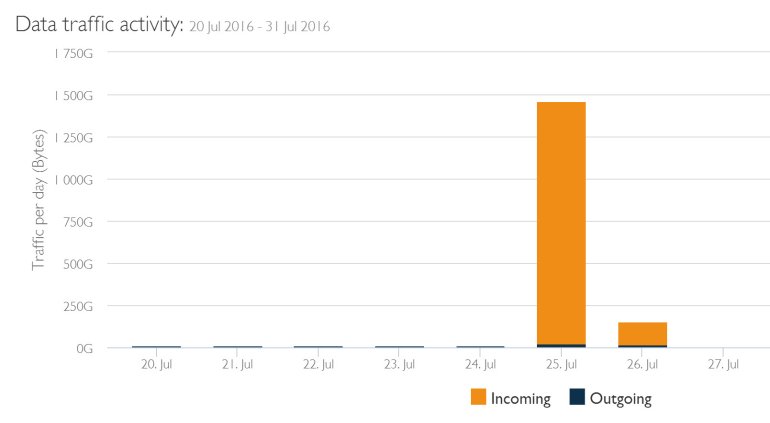 And also we've got an abuse.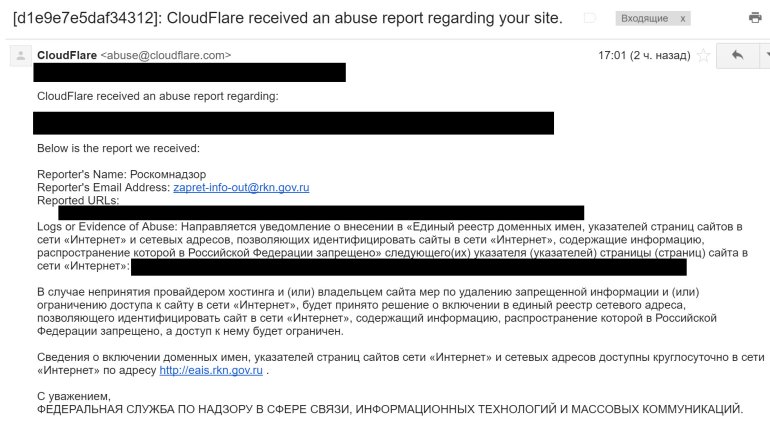 UPD: Do you know the difference between good and bad companies? The former take care of their reputation, the latter don't give a damn. Some of them are clean, while the others are filthy. For some of them, it is important to cooperate with reliable partners. The others may cheat and just want to earn.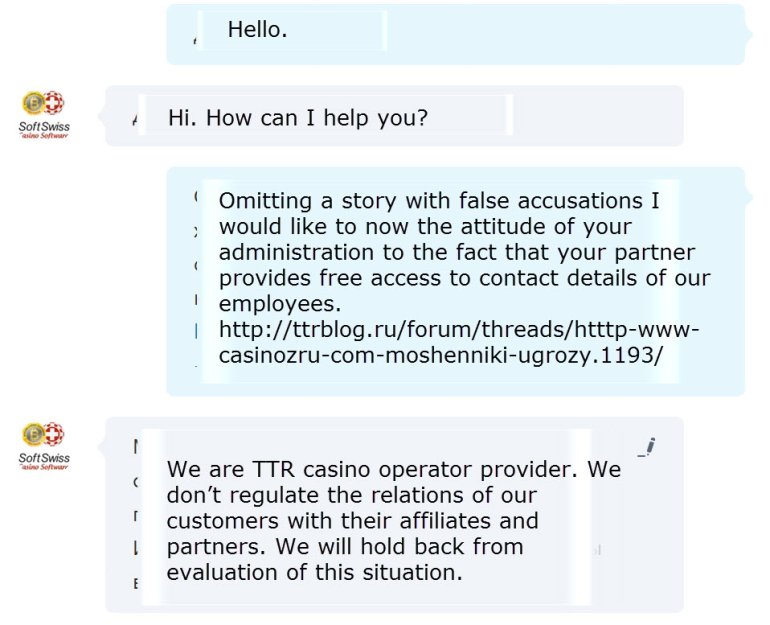 Can you feel it? That's like you are listening to some stuff about the economy: somewhere there is stagnation, and somewhere there is growth. Everything seems to be logical and smart, but the stack of notes in your pocket has become thinner, and the growth is observed only for the assets of those at the top. Let's explain:
Softswiss is a kind of pawnbroker for buying stolen goods.
We are interested in everything that relates to these beautiful watches and rings, earrings and other jewelry. And the relations of the owner of watches and our acquaintance (who stole them) are not regulated by us. That's why we will keep quiet, since our planning department has already created a plan for supplies from our friends for the next six months. Please interpret our statement correctly.
A fairly successful team can adhere to moral principles.
Once upon a time in 2010, the well-known Yury (onlinecasinos.ru) had misunderstandings with "Russian Casino". It did not pay and asked to change a review and delete negative feedback. Yury disagreed and told this story to other webmasters. We supported him and were also blocked. Now we do not recommend that gamblers should use this fraudulent site. After this situation, we decided always to be honest with our visitors. The situations are different, but inadequate requirements and threats will always be addressed the same.
To sum up, we want to know the opinion of our readers. Therefore, we ask one simple question:
Should we "delete" or "keep" our honest review of TTR Casino?
Please write any of these words in the comments and be kind to explain your opinion.