Lost Treasures Lost Treasures Review
The courageous pirates still haunt minds of the developers of online gambling games and bring them lots of ideas for new games. Lost Treasure is an another slot machine devoted to the pirate topic, which has everything of the pirates life, such as parrots, a chest with treasures (at least in dreams), powerful sailors, which carry barrels with rom. Oh, it is so attractive and promises such an adventure! That's why there are no doubts in joining this game. Let's see what we can wait from one-eyed pirate, which is the main character of this game.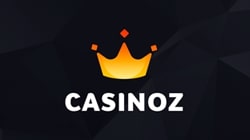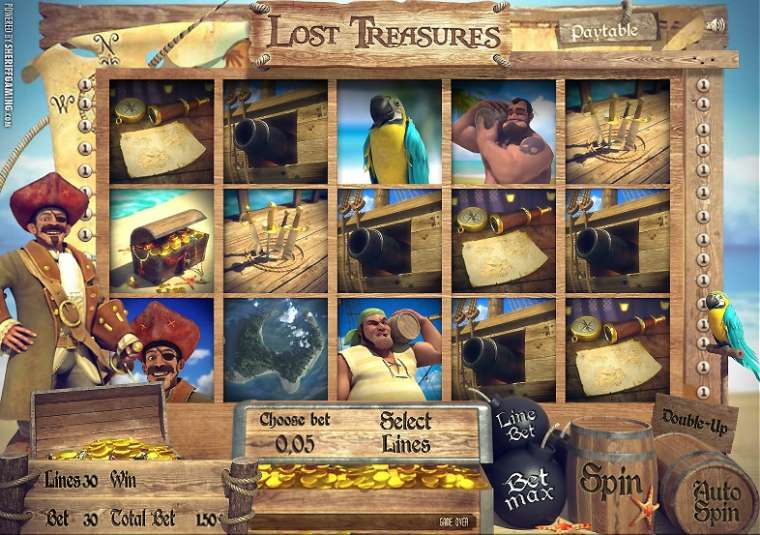 Play Lost Treasures in NZ Casino for Real Money
You can find Lost Treasure slot machine in Jackpot Red online casino, which provides an opportunity to charge an account by the most convenient payment methods (as well as making withdrawals) to make your financial operations easier.
Please share your impressions of Lost Treasure slot machine with us and other readers of casinoz.me. You can write your responses in comments to the review and rate this game. Your opinion is very important for us.
How to Play Lost Treasures pokie
Lost Treasure slot machine tells about the lost treasure, which pirates are looking for, as well as you do! The pirate, which you can see at the screen of this model, is quite confident in his power, so don't be behind him.
Lost Treasure video slot can offer the players five reels and thirty pay lines. All the rest depends on you fortune. We would like to hope on the best result.
This model is also provided with a beautiful gambling feature, which can double up your winning. There the pirate throws a golden coin to the air above a barrel, while you have to guess: heads or tails? If you give correct answer several times, you can increase your winning a lot! However, if you are not ready to risk, it is not worth it. Just click at «Collect» button and take your prize, otherwise you can lose all in result.
Wild symbol is an image of a parrot, which can expand and literally speaking flies from the slot! 3D effect lets it fly out from the third reel and make quite a spectacular performance. The image of the parrot can replace symbols with images of a ship, a pirate, sailors, knifes, a cannon, as well as treasure map in Lost Treasure slot machine.
Lost Treasures Symbols, Wild, Scatter
The gaming symbols, which you would see at the screen of Lost Treasure slot machine, are images of a parrot, a pirate, sailors, a ship, a chest with treasures, a treasure map, ship cannon and knifes sticked into the deck of the ship. Every symbol has its own animation, which lives up the game a lot.
Lost Treasures Bonus games
The bonus game of Lost Treasure slot machine is named «Click Me». Playing in this round you would see treasures, lots of treasures! They would appear from anywhere, while you would have to select a proper chest. To receive a winning, you would have to click at the symbols in this game and you would see your prize. Click symbols appear only at the first, the third and the fifth reels.
The second bonus round of this model is thematic game. The captain has hidden his treasures so deep that he even doesn't know where to look for them now. Longer you help the captain to search for his treasures, higher your reward is! Your mission is to find captain's coins, as well as free spins and an extra multiplier of payoffs. All these attractive things would increase your prize. The bonus symbol can appear only at the first, the second and the third reels.
Jackpots
An amount of the jackpot, which you can receive in Lost Treasure slot machine, is 1500 coins. You can win the jackpot when five images of the ship make a combination.
Lost Treasures Interface
The interface of Lost Treasure slot machine is very beautiful and creates a great atmosphere of the game, where the lows of the pirate ship are in force. The buttons under the reels are imaged in style of cannon balls and a chest with treasures. There are also barrels with gunpowder. In the other words, no safety at the ship! However, the one who doesn't risk, doesn't drink the champion's drink as well, that's why we are going to play this game in spite of all dangers, which are waiting fro us in this dangerous, but profitable adventure.
You can see the following titles at the signs:
Choose Bet - select the value of coins which affects an amount of the bet per spin.
Select Lines - select a quantity of active lines for the game.
Line Bet - select an amount of the bet per spin. It is possible to stake up to five coins per line.
Bet max - start a new spin by the maximal bet.
Spin - start a new gaming round.
Auto Spin - switch on an automatic game mode (set up a quantity of automatic spins on your own).
Double Up - play in the gambling feature to double up your winning.
Conclusion
Lost Treasure slot machine is quite a colorful video slot, which also has a logical structure except of the beautiful design. You can receive a good winning in the game, while the atmosphere is quite exciting. The background music is also on a high level. Play this exciting game and win great prizes!