 Heads or Tails Review
Coin tossing to resolve a dispute is a very old custom, which has been used by people for centuries. Even in our times, for example, all official football matches start with it. Besides, this form of entertainment is a primitive game of chance, which does not require additional devices and specialized fields. The coin itself and any other thing can serve as a bet. So, characters of Heads or Tails released by Playtech are exactly engaged in coin flipping.
Rating
Excellent
8.79 /10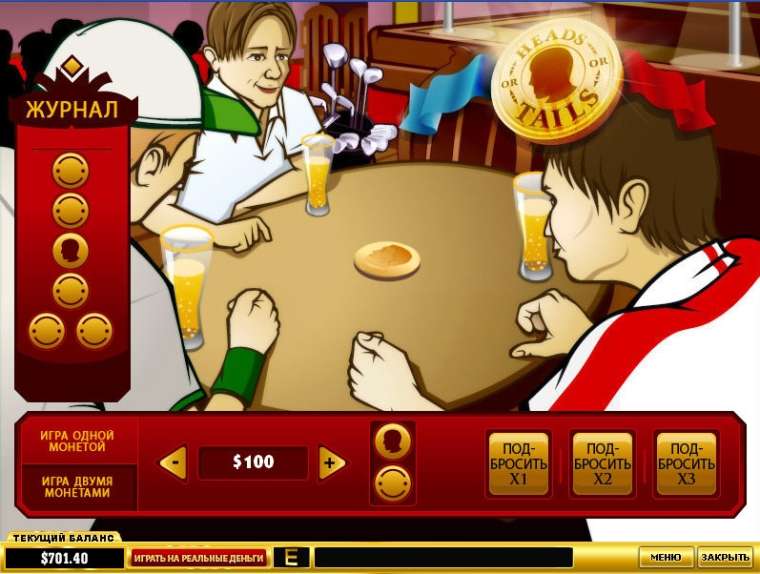 Play Heads or Tails
Heads or Tails is a new arcade game from Playtech. It is a simulation of the famous gambling game in which participants wager that a tossed coin lands on heads or tails. So, you have to try to guess a flip outcome.
It is possible to play betting on one or two coins. It is allowed to wager on the outcome of one, two or three flips in a row. All attempts should be successful if you bet on two or three flips. If two coins are tossed, you may wager on different outcomes.
The bet size varies from ten cents to one hundred dollars. Heads or Tails has the following multipliers:
One coin:
One flip - x1.9
Two flip - x3.8
Three flips - x7.5
Two coins (a bet on two heads or two tails):
1 flip - x3.8
2 flips - x15
3 flips - x60
Two coins (a bet on heads or tails):
1 flip - x1.9
2 flips - x3.8
3 flips - x7.5
At the beginning of a round it is necessary to select the bet size, choose either heads or tails, one-coin or two-coin version and flip it/them one, two or three times by clicking on the corresponding button.
Heads or Tails Interface
The interface of Heads or Tails is intuitively understandable. There is a display on the left side of the screen. It shows the outcomes of the six recent flips. The game has settings standard for the games from Playtech.
Conclusion
Heads or Tails is an original game in which the rules for the classic entertainment called heads or tails are updated with such innovations as the opportunity to toss two coins and wager on several flips. It allows you to quickly and easily check the favor of fortune. But you have to understand that here and in any other casino game payouts are made not according to true odds, as it is clearly seen from multipliers (for example, x1.9 instead of x2).
Where to play Heads or Tails for free or real money in New Zealand?
It is possible to download Heads or Tails for free at
many online casinos
running on the platform of Playtech. They include some excellent establishments which are deservedly occupying the leading positions of Top 10 created by the portal Casinoz. The logos of casinos with games from Playtech are presented under this article.
It is possible to test the game Heads or Tails without registration in free mode directly on our website. To do this, click on the image above this article.