 Super Jackpot Review
It has been known that each respectable online casino offers progressive jackpots. Users can fight for them mainly playing classic and video slots, some board and card games, and some kinds of video poker. One of such types of video poker is Super Jackpot that can be found at online casinos using products from Cryptologic. To get the progressive jackpot, it is necessary to collect a royal flush betting five coins.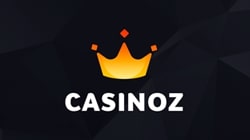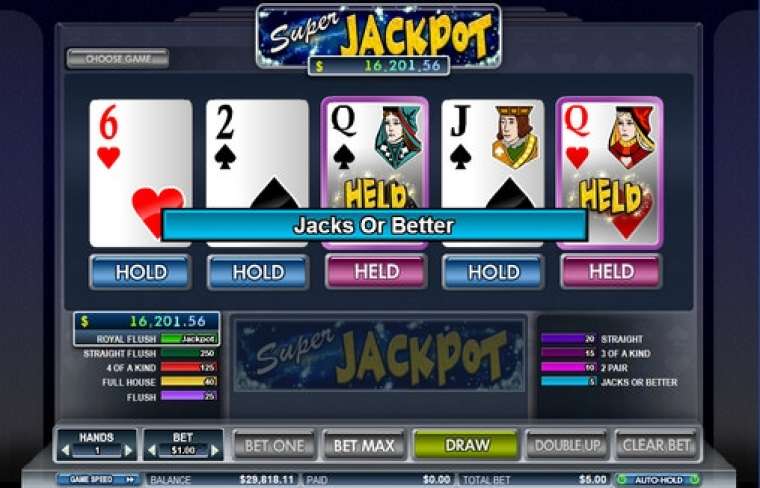 Play Free Demo Super Jackpot without registration
It is possible to find Super Jackpot at Inter Casino and some other
online casinos
running on software released by Cryptologic. The list of some of these establishments can be seen below. It is not allowed to play without registration even in training mode, but clients can open accounts in just a couple of minutes.
How to Play Super Jackpot
Super Jackpot is a
virtual video poker
with progressive jackpot from Cryptologic. A standard 52-card without jokers is used to play this game.
Basic principles and rules of the game are traditional for video poker. It is necessary to collect a paid combination having an opportunity to draw any number of cards once. The lowest combination in the paytable is a pair of jacks.
Before you start playing Super Jackpot, you should indicate the coin value. There are two options: twenty-five cents or one dollar. It can not be changed while playing.
It is possible to play Super Jackpot betting on multiple hands (up to one hundred). In this mode, the user selects a card that he or she wishes to hold on the main box. Then the selected cards are duplicated in all hands. The cards for various hands are dealt from individual decks.
The obtained payout can be increased in the risk game. It is necessary to predict the color or suit (the user should select) of a hole card. If you correctly guess the color, the prize is doubled. If you choose the right suit, it is multiplied by four. Mistakes lead to the loss of bets. The number of subsequent attempts is usually limited by the rules of each casino.
Jackpots
This game offers a
progressive jackpot
. To win this jackpot, it is necessary to collect the highest hand called a royal flush while betting five coins. If you wager from one to four coins, the payout for a royal flush will be from two hundred and fifty to one thousand coins. The amount of progressive jackpot varies in versions of this game with different bets.
Super Jackpot Interface
The interface of Super Jackpot video poker has many elements. The following buttons are used to control the gameplay:
Bet One is used to add one coin to the bet size
Bet Max allows making the bet in the amount of five coins
Deal allows dealing the cards
Rebet & Deal allows repeating the bet and dealing the cards
Clear Bet is used to remove a bet
Hold is used to hold a card
Double Up triggers the risk game
Hands allows selecting the number of hands.
Information about the gameplay appears in the following windows:
Bet shows the coin value
Balance allows checking for the number of credits on the account
Paid shows the payout size
Total Bet shows the bet size
Gamers can select the game speed in Super Jackpot video poker. There is also auto-hold mode.
Should You Play Super Jackpot for Real Money in New Zealand?
We can recommend that all fans of this genre of gambling games who like chasing jackpots should download Super Jackpot video poker. It has user-friendly interface and pleasant design that does not tire the eyes.
This poker has classic rules and traditional payouts, so you can use basic strategy trying to collect the highest hand. You should play betting only five coins. Otherwise, there is no sense in choosing exactly Super Jackpot Poker.
It is possible to wager on several hands in order to increase the probability of winning the jackpot. But you should do that only if you have the sufficient bankroll.