 About
Roulette is a quite conservative game, so casinos offer not so many variations of this game of chance. The main types include American, European and French roulette. However some manufacturers of software for online casinos have succeeded in impressing users with their novelties in this field. So, Microgaming offers some unusual kinds of roulette among which there is even one game with a progressive jackpot. It is called Roulette Royale.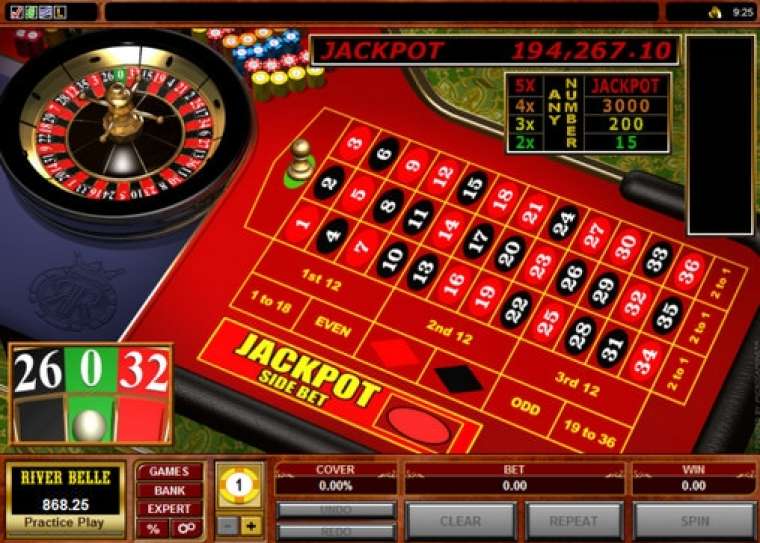 Play Roulette Royale
Roulette Royale from Microgaming is a kind of European roulette with one zero with an opportunity to win a progressive jackpot.
Players can make the following bets, which are paid according to certain multipliers.
Inside bets:
Straight-Up (one a single number) - 35:1
Split (on two numbers) - 17:1
Street (on three numbers) - 11:1
Square (on four numbers) - 8:1
Line (on six numbers) - 5:1
Outside bets:
Column - 2:1
Dozen - 2:1
Even/odd - 1:1
Red/black - 1:1
1 to 18/19 to 36 (manque/passe) - 1:1
If the ball falls into the zero pocket, all outside bets lose.
The gameplay is typical for any kind of roulette. The player should select the chip denomination, make bets and then the spin is started. When the ball stops in one of the pockets, the lost bets go to the casino bank, and the winnings are paid out.
Roulette Royale Bonus games
During each spin one credit is automatically charged off. This bonus bet, which is paid if the same number comes up twice or more in a row. Payouts are made in the following way:
One number comes up two times in a row - the payout is 15 credits.
One number comes up three times in a row - the payout is 200 credits.
One number comes up four times in a row - the payout is 3,000 credits.
One number comes up five times in a row - the player becomes the owner of the progressive jackpot, which is accumulated from the bonus bets.
Roulette Royale Interface
The interface of Roulette Royale from Microgaming is an image of the roulette wheel, as well as a control panel and several info windows. The table layout on which players place their bets is standard. The only exception is the presence of a sector called Jackpot Side Bet.
Users can play in regular and expert modes. The following buttons are available in regular mode to control the gameplay: Clear, Repeat, Spin, Und and Redo. It is possible to create patterns of bets (Edit) in expert mode. Users can create and save up to eight patterns.
The chip denomination is selected using Plus and Minus located under the image of the casino token. The info window displays data about the current spin. There is a line with advices for players and the amount of progressive jackpot is displayed above the roulette wheel. The graphics and animation of the game can not be considered as extremely realistic, but they are very colorful.
In the settings of Roulette Royale from Microgaming, customers can activate a quick spin, advices for wagers, zoomed image of the roulette wheel during the fall of the ball and indicate whether to rebet after the victory or not. In addition, it is also possible to adjust audio options and autoplay settings.
Conclusion
Undoubtedly, Roulette Royale is interesting to a wide audience because it allows taking part in chasing the
progressive jackpot
. Nevertheless, it is worth noting that this game can not be considered to be beneficial for players. The house edge in bonus bets is a little more than 40%.
But do not be afraid and don't jump to conclusions concerning this roulette. Every ten thousand dollars of the jackpot reduces the house edge by about 0.5%. So, you can calculate yourself the size of the jackpot that is worth fighting for.
Where to play Roulette Royale for free or real money in New Zealand?
Roulette Royale can be found at many online casinos running on the platform of Microgaming. Below there are the logos of such establishments with links to their official websites.