 Punisher: War Zone Review
«Revenge has name». It was the slogan of the movie screened after the famous Marvel comic «Punisher: War Zone». The main hero called The Punisher destroys everybody on the evil side. He takes revenge for death of his beloved people, that's why he is indestructible. It is his sacred war. Now the Punisher expands the territory of his war and fights the villains in the slot machines developed by Playtech. If you are not scared of the daredevils with knifes, axes and all the rest possible weapon attacking you, «Punisher: War Zone» video slot would suit your taste.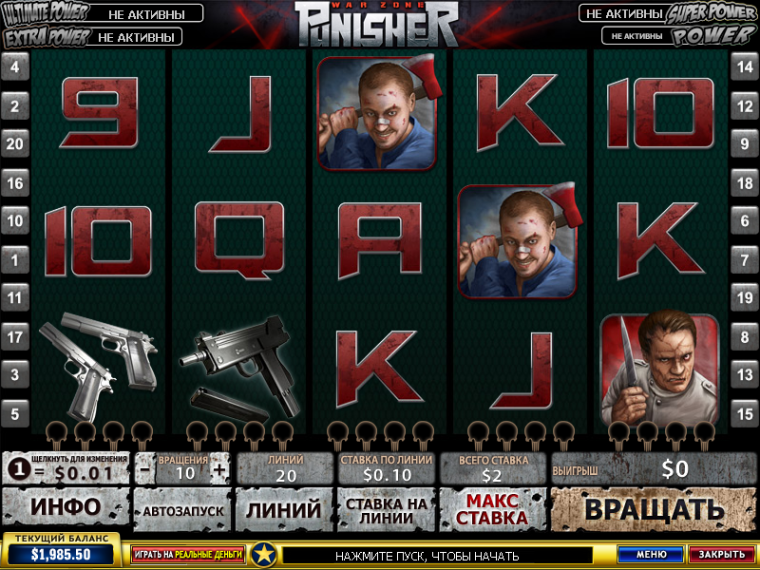 Play Punisher: War Zone
«Punisher: War Zone» online video slot is the five reeled slot machine with twenty pay lines. Quantity of interesting feature of this game is not less attractive than its visualization, music, the interface and the plot. In the other words you are definitely going to like this slot machine if you like all kinds of shooters, actions and justice fighters, which appear from nowhere as the low and order avengers and destroy all the evil kinds of organized crime. This game is also provided with Scatter and Wild symbols, free spins, a collective bonus and a progressive jackpot. Are you already intrigued? So purchase the tokens of value from one cent to… fifty cents. Such an unexpectedness. As you know, most of traditional slots provide token denomination up to five dollars or at least two. Here the top limit is just half of a dollar, but it is possible to stake up to ten tokens per spin. It will help you rising up your line and total bets. You can activate all twenty pay lines, so the maximal acceptable bet is one hundred dollars per spin. Both casual players and the high-rollers can find this
slot
very attractive.
This model has Scatter symbols, Wilds, the collective bonus and a round of free spins. «Punisher: War Zone» online video slot was created after the same named movie which was screened after the comics. You can also find a slot after this comics in the gaming assortment of Cryptologic company.
An image of a skull is Bonus symbol of this game. You need to pick four such symbols at the reels to multiply the total bet by x4 and get five free spins with x2 extra multiplier. When you hit an image of the skull, it is displayed in the bottom part of the reels. Number of skulls remains the same when you quit the game and launch it again. However if you change the total bet, you lose all collected skulls until you return to the same total bet.
Punisher: War Zone Symbols, Wild, Scatter
The gaming symbols, which you can see at the screen of «Punisher: War Zone» video slot are images of Frank Castle (Wild symbol), the logo of the Punisher, which is Scatter symbol of this game, an image of the skull (Bonus symbol), different kinds of weapon, Louny Bin Jim, Gigs, as well as signs of the playing cards from nine to ace.
Punisher: War Zone Bonus games
Any bonus rounds are not provided by the rules of «Punisher: War Zone» slot machine.
Jackpots
An image of Frank Castle (the Punisher) is Wild symbol of this game. Moreover, you can get the highest fixed payoffs when these symbols drop out at the screen. For example, five of them at the same active line can bring you 10000 bets.
All the video slots created after Marvel comics draw four mysterious progressive jackpots: Power, Extra Power, Super Power and Ultimate Power. All four jackpots hit randomly. You can win one of them just while spinning the reels. You can hit the jackpot even when you have no winning combinations. However your chances are higher when you play by higher bets. Jackpot lottery is the matrix of twenty cells (4x5) which hides different jackpot symbols. Clicking at the cells you open its contents. You need to pick three matching symbols to win one of the jackpots. Here you are playing for time. If you don't win during provided time, the prize is paid automatically.
Punisher: War Zone Interface
This slot machine with its impressive graphics can also boast with the convenient and user-friendly interface. You can see the following controlling buttons at the screen:
Bet Max – start a new spin by the maximal bet.
Spin – start a new spin.
Lines – select the active lines.
Bet per line – select an amount of the bet per line in coins.
+/- - select the coin value.
Auto start – the automatic game mode.
Gamble – play in the gambling feature which is active when you win some amount by results of a spin. Here you have an opportunity to rise up your win two or four times.
Conclusion
The excellent plot line, the wonderful graphics and sound effects make this slot machine an excellent choice for the gamblers. The beautiful animation makes this game even more gambling.
Where to play Punisher: War Zone for free or real money in New Zealand?
You can play on «Punisher: War Zone» slot machine in the popular international online casino
Titan Casino
or in
Golden Palace casino
which is also very famous.Please share your impressions of «Punisher: War Zone» slot machine with us and other readers of Casinoz. You can write your responses in comments to the review and rate this game. Your opinion is very important for us.