 Bonus Bowling Review
Despite the huge popularity of bowling in many countries, it has been available at online casinos since recently. For example, Playtech created a game called Bonus Bowling.
Rating
Excellent
8.78 /10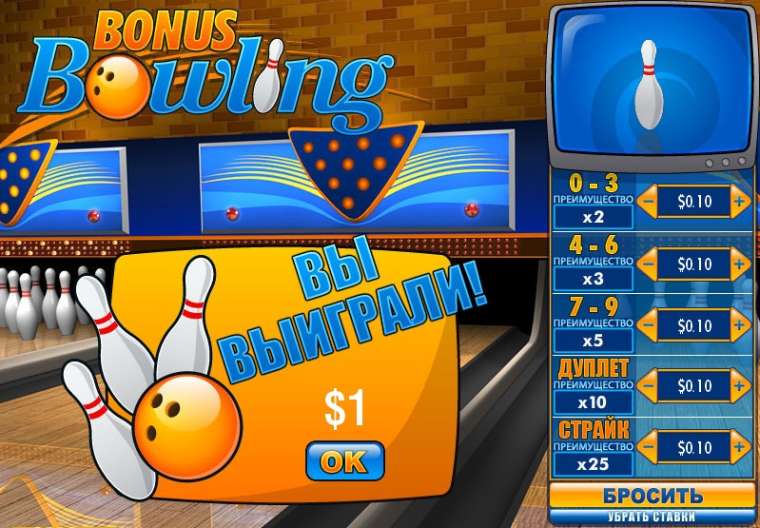 Play Bonus Bowling
Bonus Bowling is classified as an arcade game. It is necessary to try to guess the outcome of one frame, i.e. two subsequent rolls. The player bets on the expected number of pins that will be knocked down. There are up to five options: 0-3, 4-6, 7-9, spare (all the pins are knocked down in two rolls) and strike (all the pins are knocked down in one roll). Multipliers vary from x2 (a bet on 0-3) to x25 (a bet on strike).
The wagers can be made on one option or on several ones simultaneously. The minimum amount is ten cents. The maximum bet is one hundred dollars (fifty in case of a bet on strike). The only thing that you should do is to make a bet and click on Roll. Then you should just watch two throws and find out whether you are lucky enough to win some money or not.
Playing Bonus Bowling you can become an owner of a bonus payout which is discussed below.
Bonus Bowling Bonus games
Bonus Bowling has a special bonus round called Golden Frame. It can be triggered after the first roll of the ball at any time, as it becomes clear from the inscription on the scoreboard. If the player succeeds in making a strike in this frame, he or she becomes the owner of the payout in the amount of ten total bets for all positions.
Bonus Bowling Interface
The interface of Bonus Bowling is available in different languages at many
online casinos
. It includes the main screen with an image of a lane, a scoreboard, which shows the outcomes, and a control panel, which has all control elements of the gameplay.
The bet size is selected by the buttons Plus and Minus located near each option. There are the buttons Roll and Clear Bets in the lower right corner. The payout is displayed in the pop-up window.
Conclusion
Bonus Bowling is a simple and fascinating game of chance at the same time. All the fans of bowling will appreciate it. The participants don't require skills to play it, since the outcome depends solely on luck.
Where to play Bonus Bowling for free or real money in New Zealand?
It is possible to download Bonus Bowling for free at most major online casinos running on the platform from Playtech. The list of such establishments can be found under this review. Users also have the opportunity to test this game without registration in free mode. To do this, it is necessary just to click on the image at the top of this article.