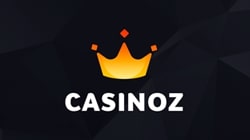 Baccarat

How to Play Baccarat
Baccarat manufactured by Net Entertainment is a
traditional variation of baccarat
. Eight standard 52-card decks that are shuffled before each deal are used in this game. It is allowed to wager only on one hand. The range of bets could vary at different casinos. Three tables are available at Unibet Casino: 0.10-10, 1-100 and 10-1,000 euros.
The game is played against the house. Its goal is to guess the winner among the banker or player. The tie is also possible. So, it is necessary to make the right bet.
The card values and their drawing correspond to the classic rules of baccarat. You can become familiar with them in the corresponding section of the website Casinoz.
The payouts are made according to the following multipliers:
The bet on a player - 2:1;
The bet on a banker- 2:1 (minus 5% commission fee);
The bet on a tie - 9:1.
The gameplay of baccarat is quite simple. You need to choose the bet size and place the bet on one of the three fields (player, banker and tie). Then the croupier deals cards, draws them for necessary hands (strictly according to the rules) and pays out the winnings. You do not need to make any decisions while dealing.
The theoretical payout percentage in baccarat from Net Entertainment is 98.94%, which makes it very profitable for customers of casinos.
Baccarat Bonus games
Baccarat on Net Entertainment is played according to the traditional rules, so there are no bonus bets, extra payouts or progressive jackpots.
Baccarat Interface
The interface of baccarat will not cause even the slightest difficulty if you know the basic terminology of this game. The following buttons are used to control the gameplay:
New Bet allows making new bet
Rebet is used to repeat the bet
Deal allows dealing cards
The data on the bet amount, winning and balance appear in the info line located under the main window. Statistics of recent hands are displayed in the semi-transparent table directly over the table. The display with the range of bets and payouts can be found to the left of the discard tray. In the settings gamers can adjust the sound, select the game speed and make other insignificant changes.
Conclusion
This is a convenient and beautiful virtual
baccarat
, which can be recommended to each and every player who wants to become familiar with card games or try his luck. Do not forget that the bet on a tie is extremely unprofitable for the gambler, so it should be avoided. There is no sense in counting cards in baccarat even at land-based casinos, not to mention online establishments, where all the cards are shuffled before each deal.
Play Baccarat in NZ Casino for Real Money
You will find baccarat at various casinos running on software from Net Entertainment. At Unibet Casino you can play baccarat without registration in free mode.