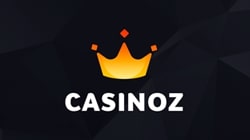 Jackpot GT: Race to Vegas Jackpot GT: Race to Vegas Review
If you don't have a good grasp of cars, you can be unaware the meaning of GT abbreviation means. It is a short name of the Italian expression Gran Turismo (or Grand Touring in English), which is used for speed comfortable cars, which were originally used for long distance rides. Usually it is a large coupe or cabriolets with an extremely powerful engine. Actually, GT mark, which is not a technical term, is used, first of all, in marketing aims, that's why you can see it at the cars with different specifications.
We have made this kind of knowhow for you to understand better, what the name of Jackpot GT: Race to Vegas video slot, which was recently released by the famous Ash Gaming Company, can mean. This free slot machine is carefully described in the following review, prepared by the team of Casinoz.
Rating
Excellent
8.40 /10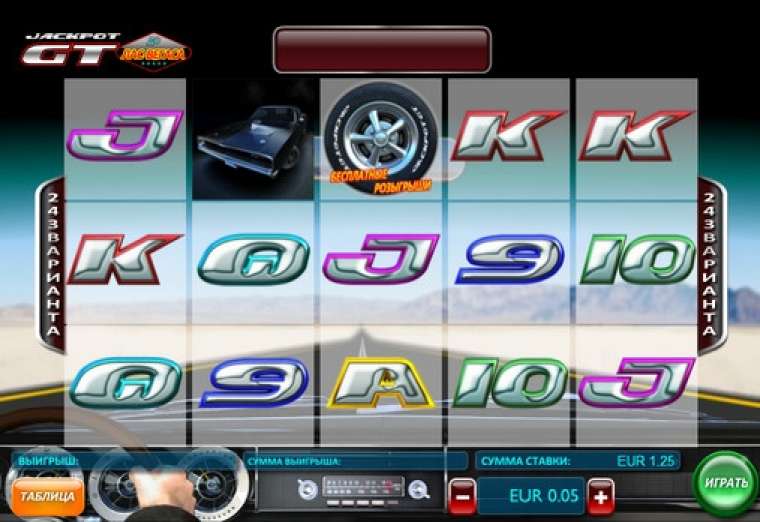 How to Play Jackpot GT: Race to Vegas slot machine
Jackpot GT: Race to Vegas is a video slot with five reels and three rows of symbols at the screen. There are no active lines in its standard view here. The winning combinations are made from the similar symbols, situated at the neighbor reels, starting from the first left one.
Herewith, playing Jackpot GT: Race to Vegas slot machine is possible by the bet in range from twenty five cents to twenty euro per line, while the maximal acceptable bet per spin is five hundreds euro. It means that the bet is twenty five divisible.
An amount of the payoff is calculated according to the size of the bet and the index, stated for every combination (up to x500). There are totally 243 ways of making the paid combinations in the standard game of Jackpot GT: Race to Vegas. The available functions of this video slot are the special symbols, the thematic bonus rounds, free spins, a progressive jackpot and other. The gambling feature is not provided by the rules of Jackpot GT: Race to Vegas, that's why all the payoff, received during the spin, are immediately transferred to the player's account.
The theoretical payback index of Jackpot GT: Race to Vegas slot machine, declared by the producer, is 94%.
Jackpot GT: Race to Vegas Symbols, Wild, Scatter
A black car, a sign of Las-Vegas, a roulette, a timer, a scorpion, as well as letters and numbers, meaning the value of playing cards from nine to ace, are imaged at the reels if Jackpot GT: Race to Vegas video slot. There are also the special symbols in Jackpot GT: Race to Vegas slot machine, such as Wild (a logo of Jackpot GT), Scatter (a wheel with Jackpot GT title), Bonus (a guy or lady) and Speedometer Bonus (a speedometer).
Wild comes in stripes, that's why it can cover the whole reel. It can be charged with payoff on its own, but only when five such symbols are dropped out in the same time. However, Wild can replace other standard symbols, when it is necessary, that makes it really valuable.
Scatter triggers ten free spins by the current bet. The spins are started when such symbol appears at the first, third and fifth reels in the same time. During these spins the reels are expanded and the symbols locate in four rows at the screen. It means that you have 1024 ways of making the winning combinations. Free spins can't be prolonged.
Bonus – when tan image of a guy appears at the first reel and an icon with a girl at the last one, the thematic bonus round of Jackpot GT: Race to Vegas video slot is ttriggered.
Speedometer Bonus – three or more such symbols, dropped out anywhere at the screen, trigger another bonus game.
Jackpot GT: Race to Vegas Bonus games
In the main bonus round of Jackpot GT: Race to Vegas video slot you would have to ride the car during the race in Las-Vegas (you would find out an aim of the race on your own), collecting the valuable prizes by your way. When you reach the aim, you can launch the reels of the video slot in the local casino only once. There you win whether a random amount or a progressive jackpot.
In Speedometer Bonus game you would only have to select one of the bonus symbols at the screen to find out an amount of the prize payoff you are provided with.
Jackpots
A progressive jackpot of Jackpot GT: Race to Vegas video slot is raffled in the thematic bonus round, what we have already mentioned above in the previous paragraph.
Jackpot GT: Race to Vegas Interface
You can download Jackpot GT: Race to Vegas slot machine with a multi-language interface, that's why there is no sense in explaining the functions of the buttons and widows, which you can see at the control panel. Moreover, the interface of this video slot is user-friendly and simple. The user's settings allow switching off the background music and all sounds. The automatic game mode is not provided. There is an informational section (also multi-language).
Conclusion
We should say that visually Jackpot GT: Race to Vegas slot machine doesn't make any bright impression. Although it is made with 3D graphics, it is pretty inferior to many other models, developed by Ash Gaming. However, there are no claims to the set of functions. There are the bonus games, as well as progressive jackpot and the special symbols and free spins. In the other words, playing it is really interesting. The payback index is not very high, but it can satisfy most of the readers.
Play Jackpot GT: Race to Vegas in NZ Casino for Real Money
You can play Jackpot GT: Race to Vegas slot machine for fun as well as for the real money in Unibet Games Casino or some other online casinos, which present video slots, produced by Ash Gaming. You also have a chance to launch this slot machine right at Casinoz without registration in a training mode.
Please share your opinion about Jackpot GT: Race to Vegas video slot with us and other readers of Casinoz. You can write your responses in comments and assign a grade to this game.