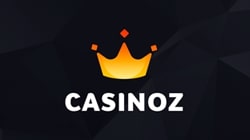 Ghouls Gold

How to Play Ghouls Gold pokie
Ghouls Gold slot machine has three reels and three pay lines. The outstanding feature of this game is hold option. It is triggered by Hold button. Such an opportunity increases your ability to get winnings in this game, so why don't you use it to the full?
This game is also provided with Wild symbols. You would see images of golden coins at the screen, which are provided with all functions of Wild symbols. So, golden coins have power not only in the real life, but also in an online casino. Wild symbols with image of golden coins can replace any other symbols except of Bonus. Well, it is not possible to buy everything for money in life as well.
This model is included into system with allows to take part in a lottery of a progressive jackpot. Online slot machines with such option become more and more attractive for the customers of online casinos.
It is possible to stake up to five coins per each of the active lines. This way, it is possible to spend up to five dollars per line in case the coin value is one dollar. Multiply this value by x3 (the number of active lines) and get fifteen dollars - the amount of the maximal acceptable bet per spin.
Which terrifying game can be without house with ghouls? Well, there is a house and lots of ghosts as well. They are presented in all colors and sizes in this model. You would see them everywhere in this interesting mythic and scaring game. However, the risk is worth it, while golden coins are sounding so attractive! Online slot machines attract different categories of gamblers, while in spite of attractive financial proposals, everybody still prefer interesting emulators of slot machines. You can easily get it in this video slot.
In case three images of ghouls appear at the active line, the bonus game would be triggered automatically. The bonus round of Ghouls Gold slot machine is the game which demands your attention and fast reaction. Are you going to be so fast to click at all ghouls of the bonus game or not? The ghosts are of different colors and each of them hides a winning, that's why you would not just having fun, but earning money. You can see your points with every click. All of them are summarized and transferred to your account in an online casino by the end of the round.
Ghouls Gold Symbols, Wild, Scatter
There are ten gaming symbols in Ghouls Gold slot machine, such as a bag with Jackpot title, Wild symbol with an image of coins, Bonus symbol with an image of a ghost, a bag with dollar sign, bats at the background of full moon, seven with something green flowing from it (acid?), a house with ghouls, a kettle with green potion, a red candle and another seven, but golden one.
Jackpots
Well, we have already told that it is possible to win a jackpot in Ghouls Gold slot machine, so don't you stake small bets when it is possible to hit a jackpot. Just follow the screen where amount of the jackpot always changes to be aware of the current situation. What if this winning is waiting just for you? The fortune is a fanciful thing.
Except of the progressive jackpot, you can pick three image of the ghosts, which would bring you five hundred coins.
Ghouls Gold Interface
The interface of Ghouls Gold slot machine looks scaring, while the ghost reminds Casper, so it shouldn't be so dangerous. You would see enormous moon at the background, as well as curved trees and a house, which make colors darker and create tension. There is a ghost with big eyes at the from scene and a title - the name of Ghouls Gold slot machine. Moreover, Ghouls word is written with green color, which Gold shines like gold.
You would see the following buttons at the control panel of Ghouls Gold video slot:
Bet Max - activate the maximal bet and start a new spin.
Spin - start a new gaming round.
Bet per Lines - select an amount of the bet per line.
Conclusion
Ghouls Gold game would bring you lots of pleasure, because it is quite original. The design of the interface is quite unusual and it makes the slot unique. Usually, online slot machines with three reels don't look so beautiful as this game. The payoffs are not so high, however, their frequency equals your chances for the same winning, which you could receive in other game. That's why this slot machine is very attractive for the online gamblers even in spite of average winnings.
Play Ghouls Gold in NZ Casino for Real Money
You can celebrate Halloween year round with the ghosts of Ghouls Gold slot machine - the game, which is presented in Red 7 online casino.
Please share your impressions of Ghouls Gold slot machine with us and other readers of Casinoz. You can write your responses in comments to the review and rate this game. Your opinion is very important for us.