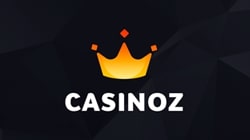 Crown and Anchor

How to Play Crown and Anchor
Crown and Anchor is a free online arcade game. Three identical dice whose faces contain the images of a crown, anchor and four card suits, as well as a field with six areas on which these images are repeated, are used to play this game.
The aim of the game is to predict the winning symbols and get payouts, making a bet on the corresponding fields.
The rules for Crown and Anchor allow placing wagers on several fields. They can vary from one to five hundred dollars at Crazy Vegas Casino.
According to the mathematical calculations, the house edge in Crown and Anchor is approximately eight percent (although the data directly for the model released by Microgaming are not available).
The player places bets on one or more fields and rolls the dice. If symbols appear on their faces on which the customer has wagered, he or she receives a payout according to the established multipliers. Then a new round starts.
The payout amount in Crown and Anchor depends on the bet size and the number of matches. If the symbol on which you have wagered has come up just on one of two dice, this bet is paid 1:1. When it comes up on the faces of both dice, the multiplier is 2:1. If it appears on three dice, the prize is paid according to the 3:1 ratio.
Payouts for all winning bets are made in the same way. Then they are summarized.
Crown and Anchor Interface
The design of Crown and Anchor is decorated in the style of a real game called Crown and Anchor. The player rolls the dice on a barrel near which there is a table with a layout on the green cloth. The following buttons and windows can be seen on the control panel:
Play is used to start a new round
Rebet allows repeating bets
Clear is used to remove all bets
Auto Play activates automatic mode
Bet shows the bet size
Win shows the winning amount
History shows the outcomes of recent rounds
Credits shows the balance of the account
Crown and Anchor provides autoplay. It is possible to disable audio effects in the settings.
Conclusion
Crown and Anchor is a version of dice games. If you are interested in simple gambling entertainment, you may enjoy it. The rules are very simple. The design is colorful. The interface is user-friendly.
Play Crown and Anchor in NZ Casino for Real Money
It is possible to play Crown and Anchor for free and for real bets at Crazy Vegas Casino and other online casinos using the platform from Microgaming. Users can test this game without registration directly on the website Casinoz but only in training mode.