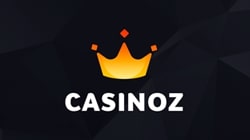 Coliseum Poker Coliseum Poker Review
«Coliseum Poker» video poker can be bravely called a kind of «Jacks or Better», the main difference to which is a progressive jackpot and some different payoff indexes. An original design should hardly be taken in account, because CTXM company designs all its models of video pokers in unusual style.
Rating
Excellent
8.50 /10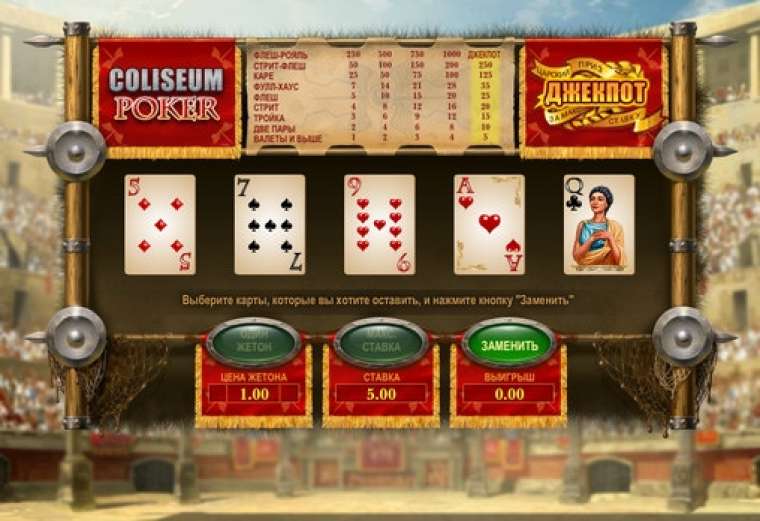 How to Play Coliseum Poker
«Coliseum Poker» is a
free online video poker
which one line and a progressive jackpot. One standard deck with no jokers is used here.
The aim of the game in «Coliseum Poker» is to make a paid combination. It is allowed to change up to five cards free, but only once.
Classic poker combinations from a pair of jacks to royal flush are paid in «Coliseum Poker» video poker. It is possible to play betting from one to five coins of the available value. If you stake five coins, you have an opportunity to fight for the progressive jackpot.
CTXM company, which has released «Coliseum Poker» video poker announces the theoretical payback index of 97,2%.
The gameplay goes by the standard scenario. The user sets up the coin value and places the bet. Then he receives five cards and can change from one to five of them free if he thinks it's necessary. Then formed combination is paid and the win can be staked in the gambling feature.
Here it is necessary to pick one of four cards randomly in hope it is higher then the dealer's card. Lucky choice doubled up your win, but the wrong choice means you lose the bet.
Coliseum Poker Bonus games
Any bonuses are not provided by the rules of «Coliseum Poker» video poker.
Jackpots
A progressive jackpot is drawn in «Coliseum Poker» video poker. To win it, you need to make royal flush playing by five coins bet. An amount of the jackpot rises up by 1,3% of each placed bet.
Coliseum Poker Interface
We won't describe details of the interface of «Coliseum Poker» game, because you can download this video poker in your original language. It would help you to understand functions of all the buttons, windows and settings.
Conclusion
The gameplay of «Coliseum Poker» video poker can hardly be called original as against to the design. As we have already mentioned above, it makes difference to
Jacks or Better
by drawing of the progressive jackpot and payoff indexes only. Casino advantage of this game is not too high, although three percent is quite a high index for video poker.
Play Coliseum Poker in NZ Casino for Real Money
You can find «Coliseum Poker» in Adam Eve Casino, where you can test it in the training mode first or start playing by the real bets at once. This model is also presented in some other online casinos powered by the software developed by CTXM. It is also possible to play video pokers without registration right at Casinoz.