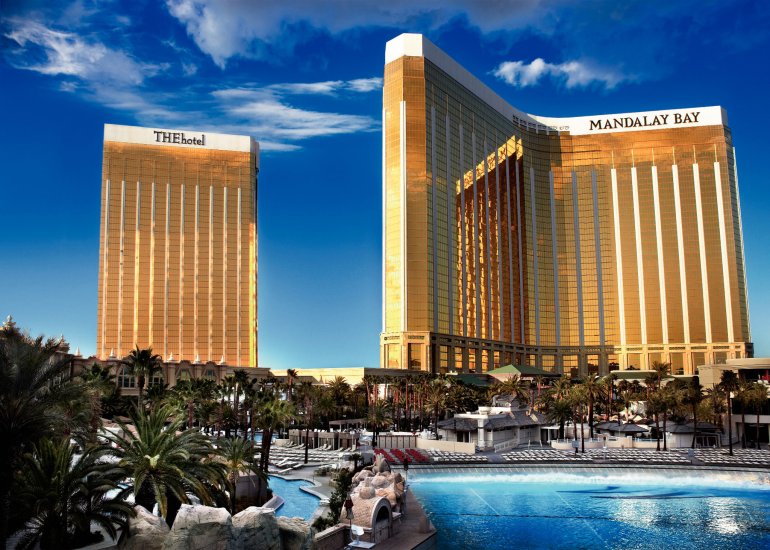 Luxury hotel-casino Mandalay Bay Resort and Casino is one of the most famous hotels and casinos in Las Vegas. It's been operating since late nineties of the twentieth century and offers visitors entertainment for every taste and the highest quality service.
Overview
Hotel and entertainment complex Mandalay Bay Resort and Casino consists of a huge casino, luxury hotel, conference center, restaurants, bars and cafes, its own private beach, shopping center, a concert hall and more.
Location
Hotel and entertainment complex Mandalay Bay Resort and Casino is located in Las Vegas at 3950 Las Vegas Boulevard. It is close to the international airport McCarran in the southern part of the Las Vegas Strip. Near the Mandalay Bay casino there is the Luxor Resort pyramid.
History
The history of Mandalay Bay Casino started in 1995 when Circus Circus Enterprises (now Mandalay Resort Group) purchased the hotel-casino Hacienda which was operating since 1956. Some time later, the casino was closed and demolished.
In three years the hotel and entertainment complex Mandalay Bay Resort and Casino were built. Initially, it should've been called Project Paradise, and its creators were going to open it in Hawaiian style. However, during the construction the plans have changed.
the Mandalay Bay Resort and Casino was opened in March 1999. Several years later, a second hotel called THEhotel was constructed.
In 2005, Mandalay Resort Group was purchased by the industry giant MGM Mirage.
In 2012, MGM Mirage announced future reorganization and rebranding of THEhotel. Already in 2013, the hotel was renamed in Delano Las Vegas, but at the time of writing it's name remained the same.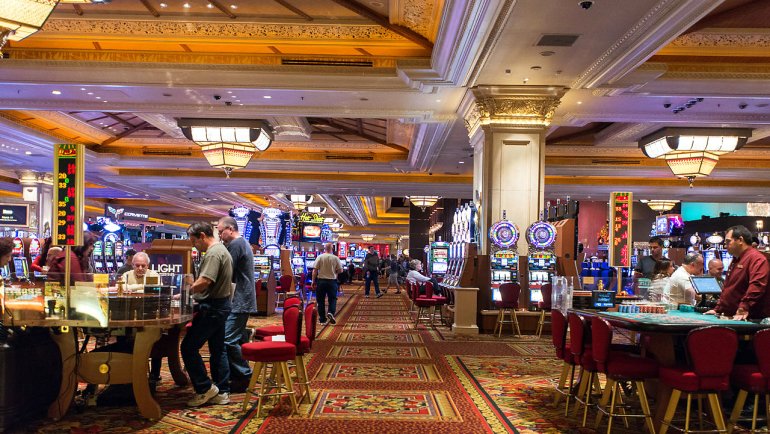 Casinos and other Gambling
Mandalay Bay Resort and Casino has a huge casino, covering the area of ??more than 12,500 square meters (135,000 square feet). It offers a wide selection of games:
More than 2000 different types of slot machines with a coin value from $ 0.01 to $ 100, baccarat, blackjack, craps and roulette.
There are also VIP-halls with much higher betting limits and additional services for the High Roller.
Mandalay Bay Casino holds tournaments between it's clients. All visitors can participate in the loyalty program M Life, guaranteeing multiple benefits to regular players.
Mandalay Bay Resort and Casino has also a poker club, where you can play for money or participate in tournaments. At certain hours, the club provides free training sessions.
Sports betting lovers can also visit the Mandalay Bay Sports Book accepting forecasts for various sports.
Another casino works directly on the beach Mandalay Bay Resort and Casino. It is called the Beachside Casino and it occupies three floors. The casino hall is separated from the pool with huge glass windows. You can enter in the beachwear. Dealer and waitresses working in the Beachside Casino are also dressed in this way.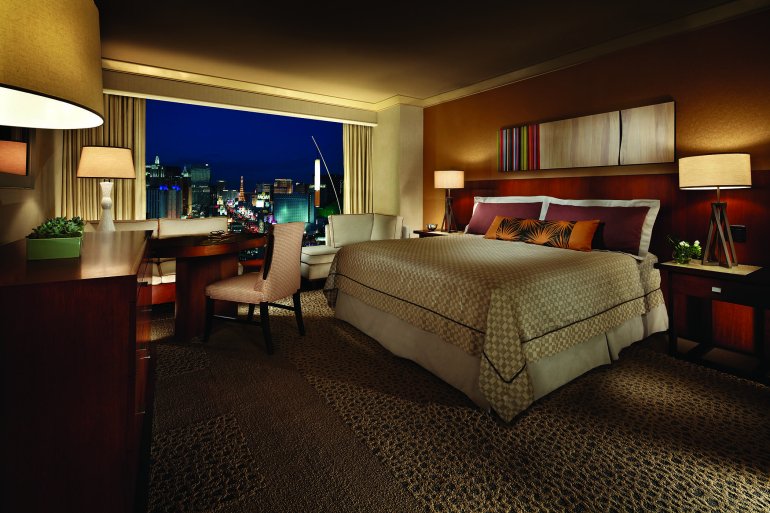 Hotels
Mandalay Bay Resort and Casino has three hotels: the actual Mandalay Bay Hotel, THEhotel and the Four Seasons Hotel. Each room offers a variety of classes, details of which can be found on the official website of the hotel and entertainment complex. Mandalay Bay has more than three thousand three hundred rooms.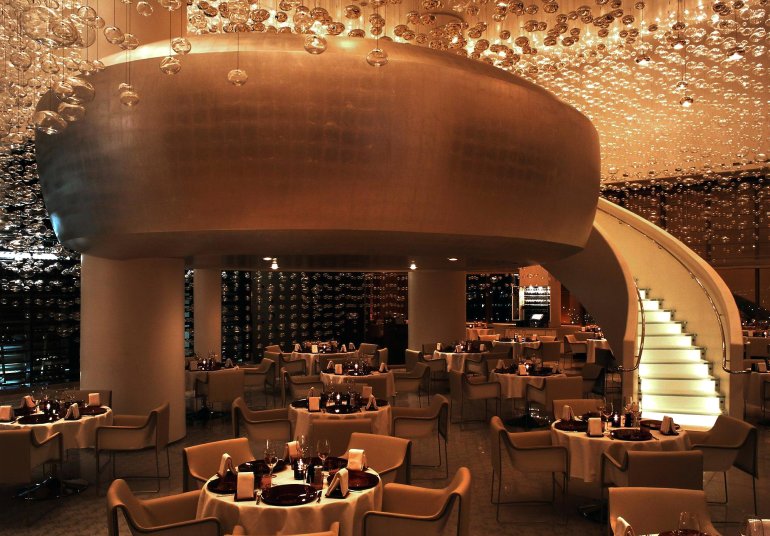 Restaurants
Complex Mandalay Bay Resort and Casino is a paradise for gourmets. It has more than two dozen restaurants, several bars and cafes:
Aureole (American cuisine)
Burger Bar (burgers for every taste)
Border Grill (Mexican cuisine)
Charlie Palmer Steak (steak house)
Citizens (American cuisine)
House of Blues (dishes from around the world to the blues in live performance)
Fleur (exotic dishes elegant presentation)
Kumi (Japanese cuisine)
Hussong's Cantina (Mexican cuisine)
Lupo (Italian cuisine)
Mizuya (sushi bar)
Alain Ducasse Mix (French and American cuisine)
Noodle Shop (oriental)
Raffles Caf? (meals countries in tropical interior)
Rx Boiler Room (American and international cuisine)
Red Square (Russian and European cuisine)
RM Seafood (land and sea)
Ri Ra Irish Pub (real Irish pub)
Seabreeze (pizza, ice cream and juices)
Slice of Vegas (pizzeria)
Stripsteak (steakhouse)
THEcaf? (cozy cafe in the lobby THEhotel)
Verandah (Mediterranean cuisine)
You can find detailed description of all restaurants at the Mandalay Bay Resort website. There is also information about on-site bars and eateries there.
Mandalay Bay Resort and Casino, of course, offers food delivery to the room. Service is also available on the beach.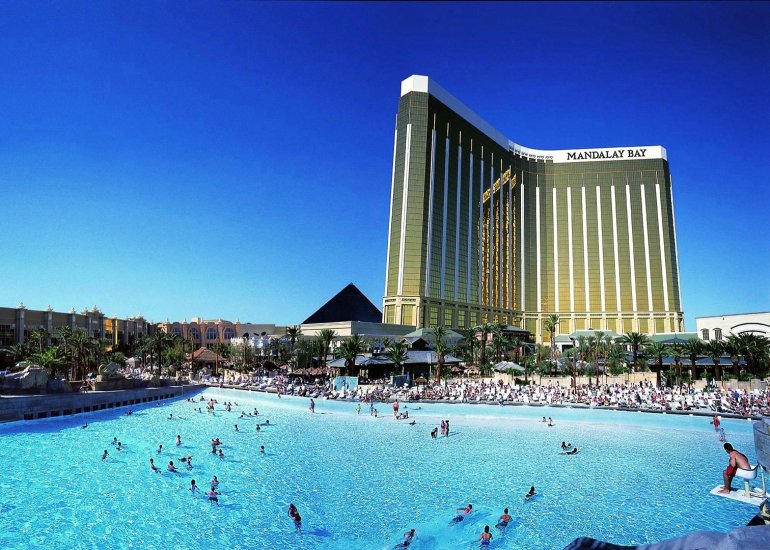 Other Entertainment
Mandalay Bay Resort and Casino has many nightclubs. International celebrities often perform there. Throughout the years, the Mandalay Bay hosted Chicago, Mamma Mia!, The Lion King musicals. Since the beginning of 2013, the guests can enjoy the sensational view Michael Jackson: One.
Restaurant House of Blues can accommodate more than 1,800 guests. Famous blues and jazz artists often perform there.
Beach Mandalay Beach occupies an area of ??about four and a half acres and offers visitors three heated swimming pools, a separate children's pool, an artificial river with a waterfall and numerous attractions, including rides, bars, restaurants and even a casino.
In the Mandalay Bay Resort and Casino you can also visit the Shark Reef aquarium.
The hall of Mandalay Bay Events Center holds world-class boxing matches, ceremonis of prestigious awards, beauty contests and other grand events.
Mall complex called Mandalay Place. It is between the Mandalay Bay Resort and Casino and Casino Luxor.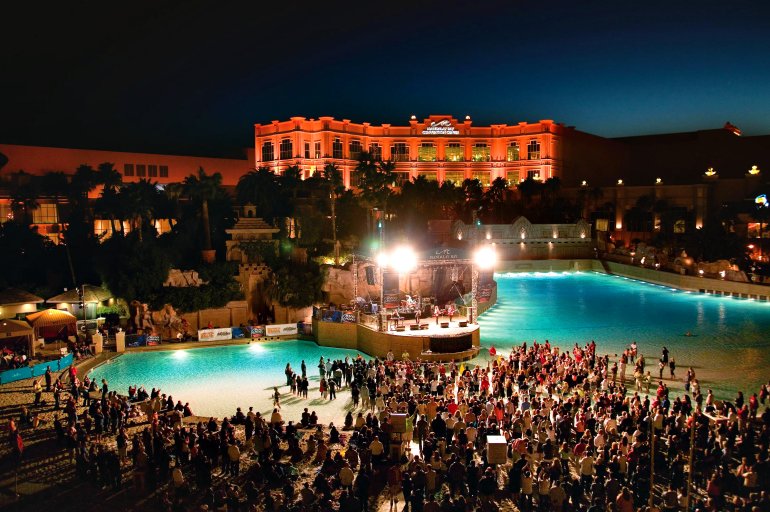 Contacts
Contact the Mandalay Bay Resort and Casino by phone: 1-877-632-7800 (free for USA and Canada).
Official site of Mandalay Bay Resort and Casino: www.mandalaybay.com. You will find there all necessary information about the complex, can book a suite in the hotel and learn about upcoming events.
Conclusion:
Despite the huge competition in the entertainment area of Las Vegas and the continuous development of the industry, hotel and entertainment complex Mandalay Bay Resort and Casino remains one of the best in the city. We have no doubt that visiting it will be an unforgettable experience.
If readers of Casinoz had the pleasure of staying at the Mandalay Bay Resort and Casino, please, share with us your review about this complex.