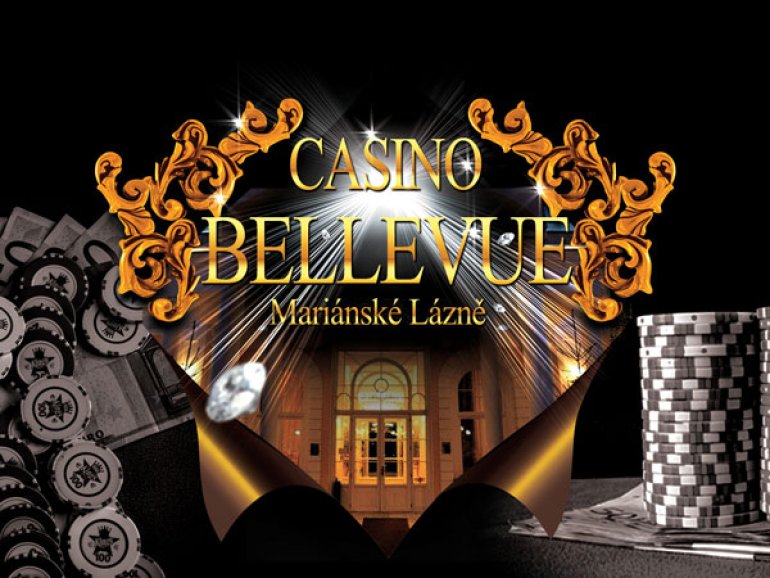 Bellevue Marienbad Casino is supposed to be one of the most beautiful casinos in Europe, and this opinion seems to be true. The building erected in 1835 in the style of the Italian Neo-Renaissance is located on a hill above the town, so that there is a splendid view of the picturesque resort and the adjacent park. However Bellevue Casino is famous not only thanks to its atmosphere of the spa and its architecture: as for services and hospitality, it is also one of the best casinos in the world.
Entry to Bellevue Casino is free of charge. Like at all of the Czech casinos, every visitor must be at least 18 years old. When you visit the casino for the first time, a photo of you will be taken and you will receive a casino card that allows visiting this casino for free. The casino is open 24 hours per day.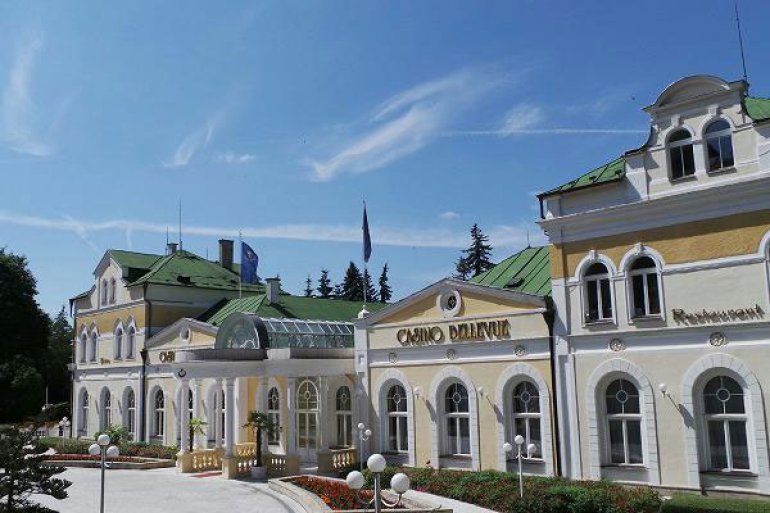 History
Bellevue Casino was built in 1835 by the famous architect Johann Kroha and has ancient traditions. Marienbad belonged to Germany until the beginning of the Second World War. Later it became a Czech town and got a name Mariánské Lázně. The town, surrounded by green mountains, is full of parks and ancient houses. Most of its buildings date back to the Golden Era in the second half of the 19th century, when many celebrities and European noblemen discovered the curative springs of Marienbad.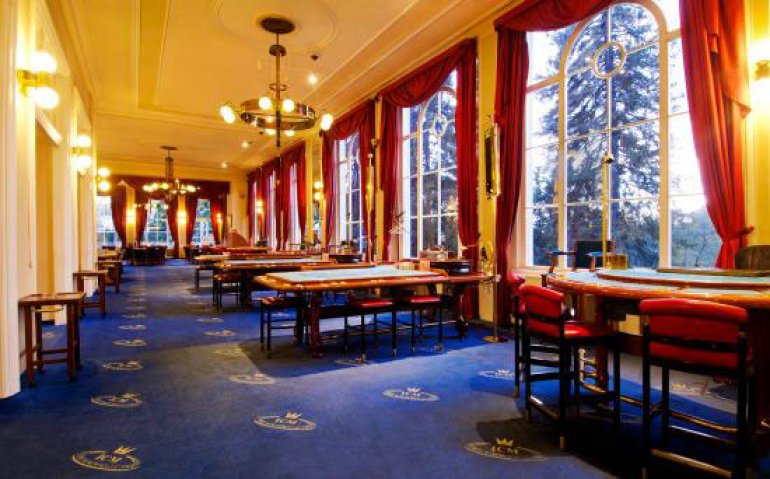 It was one of the most luxurious spas not only in Germany but also in Europe. Its famous cold springs attracted nobles to improve their health via drinking, inhalations, and mineral baths. It was visited by Goethe and Johann Strauss, Mark Twain and Chopin, Nikolai Gogol and Ivan Turgenev, Alfred Nobel and Sigmund Freud. The resort was attended by such historical personalities as Prince Friedrich of Saxony, King Edward VII of the United Kingdom, King Friedrich Wilhelm IV of Prussia, the Russian Emperor Nicholas II, and Kaiser Franz Joseph I of Austria-Hungary. At that time the small Marienbad was one of the most important centers of the world's public, political and cultural life.
The casino interior design brings customers to the "old days." Even today you can feel the spirit of the 19th century. Walls of the building, ornaments, painted chandeliers and lamps dredge up pleasant memories from the past.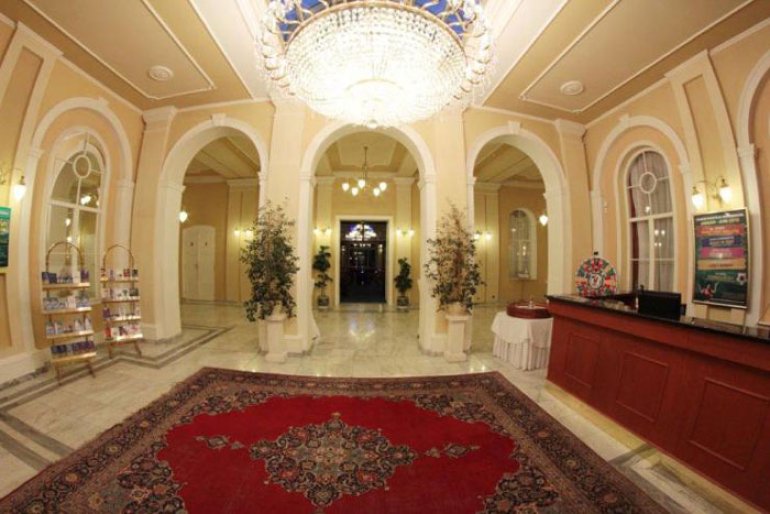 Atmosphere
As mentioned above, Bellevue Casino has a top-level atmosphere. Its lobby paved with marble, soft carpets on the floor, crystal chandeliers manufactured in 1835, huge marble columns, and gilded plaster ceilings allow suggesting that the high society felt very comfortable there in the previous century. The hall is perfectly suitable for the casino. Four large marble columns dominate in the middle of the hall. They are surrounded by the tables. The interior design was created as a skillful mix of the old and new items: cream-colored walls that are decorated with gold leaf, purple curtains, ceilings covered with stucco moldings, and a magnificent royal blue carpet with the casino logo.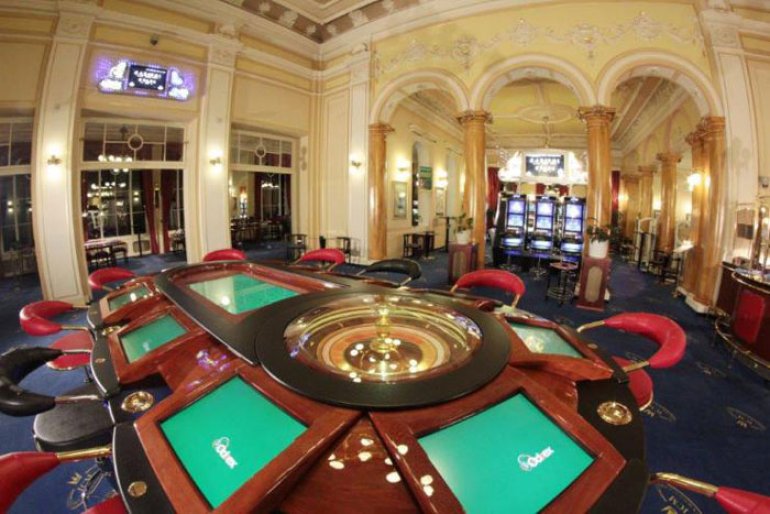 There is a large bar in the left part of the hall, which is decorated by carefully renovated old mirrors, glass, and brass. The casino restaurant is called Chopin. It is located in the right wing of the building and is one of the best gastronomic establishments in the Czech Republic. However the prices are quite reasonable. The casino also has a winter garden, which offers a fantastic view of the surrounding park.
The staff speaks Russian, English, and German. Waiters offer free soft drinks, coffee, homemade wine and beer to casino visitors who take part in the gameplay. In addition to games of chance, sometimes the casino holds various concerts where it is possible to enjoy opera arias performed by different singers or even visit a concert of heavy music.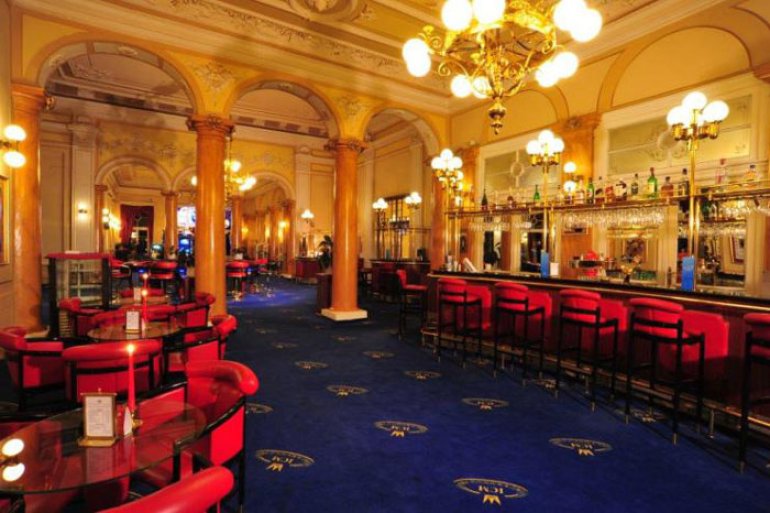 Customers can smoke anywhere inside the building of Bellevue Casino. This fact will surely please smokers, but non-smokers do not have to worry about the air quality: smoke is not accumulated thanks to the high ceilings and good ventilation. Despite the aristocratic atmosphere at Bellevue Casino there is no dress code, but if you wear shorts and T-shirts, you may hardly enter it. Most visitors are dressed simply: light sweaters, jeans and sneakers, and only some elderly people flaunt in their suits and ties.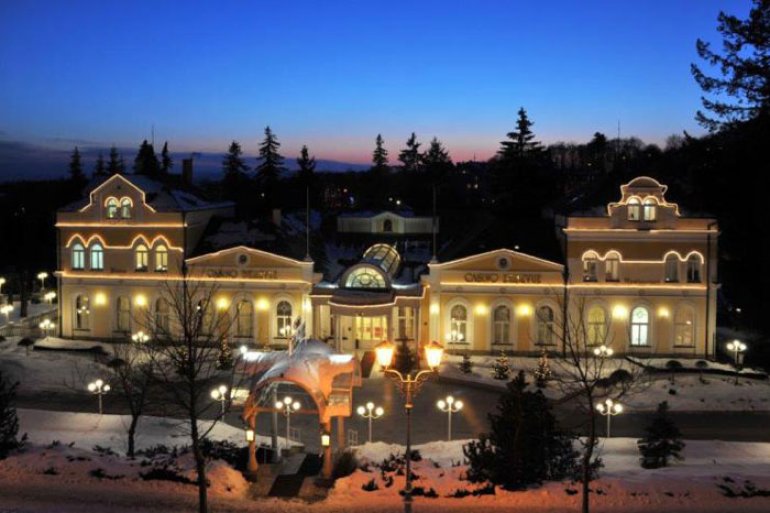 Games at Bellevue Casino
Bellevue Casino offers eight roulette tables, including five tables for quick play and three tables with seats. The minimum bet at the tables varies from five to twenty euros. The maximum one ranges from 800 to 1,600 euros. The lowest bet in the VIP-zone is 200 euros, and the highest one is a commercial secret. Each table is equipped with a display that shows the recent 10 numbers, as well as hot and cold numbers. It is very convenient for all players.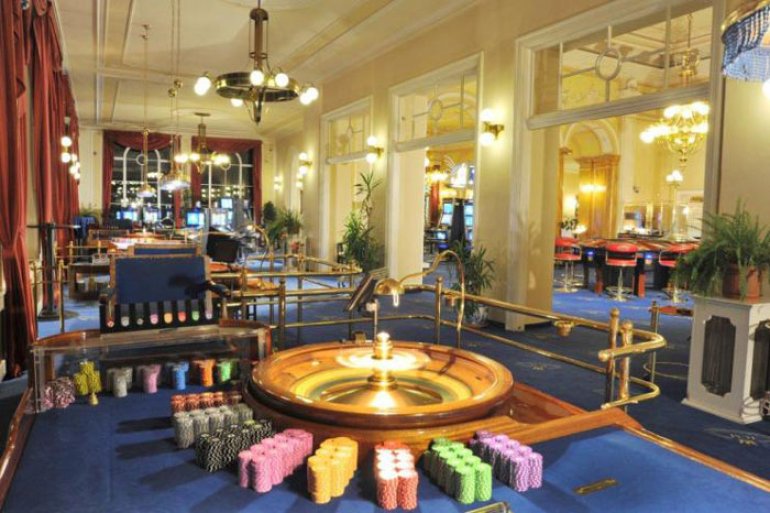 Bellevue Casino also provides gamblers with three blackjack tables. Bets at them range from 5 to 500 euros. However you may request higher bet sizes. All games are played with six decks of cards, so that counters are free to do what they like. The fact that there are no side bets seems to be its disadvantage.
Fans of poker may enjoy playing at five tables intended for cash games with the minimum bet that reaches two euros. The maximum bet is 200 euros. Users can play Caribbean Stud Poker, Let it Ride Poker, and Texas Hold'em Poker. Note that poker is very popular in the Czech Republic, so the tables are always occupied. During the tournaments that allow winning the prize from the casino owner Leon Tsoukernik, twelve poker tables are added, since there are plenty of those who want to participate in them. It is also possible to request a private tournament or a Sit&Go table.
As for slot machines, Bellevue Casino offers 56 slots. The minimum bet while playing slots reaches 10 cents.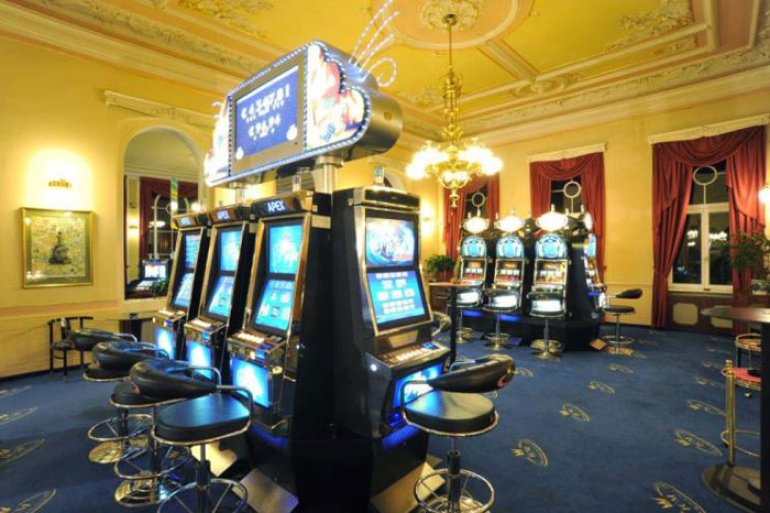 Bar and Restaurant
Bellevue Casino has an exclusive bar, which delights any fan of expensive wines and alcoholic beverages. You can study its wine list with such famous titles as Chateau Petrus Pomerol Bordeaux 1977 for a long period of time. Prices of these kinds of wine are surely appropriate. The bar staff includes a sommelier who will help you to select a wine.
Chopin Restaurant has positioned itself as a restaurant for gourmands and this is one hundred percent true. Its menu includes dishes of international cuisine and some local specialties. It primarily offers Mediterranean cuisine. Cooks who are working at the casino restaurant are excellent and they cook perfectly. Chopin Restaurant is indeed a very nice establishment.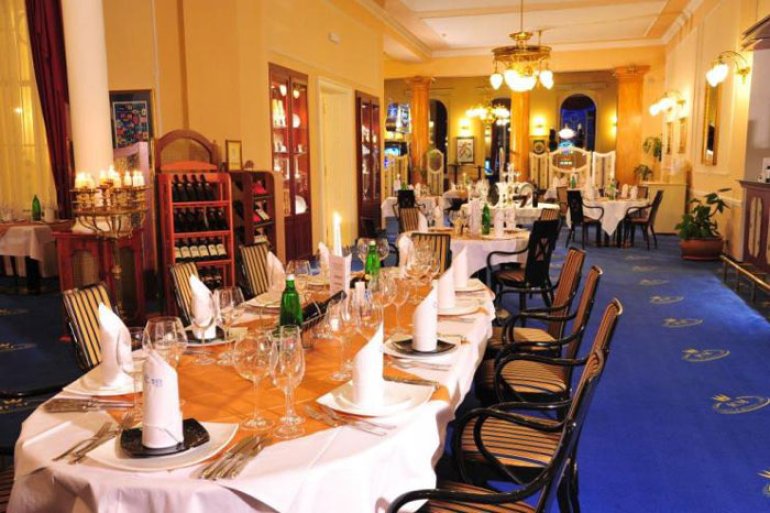 To sum up, we want to emphasize that the concept of Bellevue Casino matches the declared offers. It provides excellent services. Its staff at the tables is extremely attentive and focuses on the customers. If you visit Marienbad or its purlieu, you should use the opportunity and attend this splendid gambling house.