 Review
Vampire Slayers slot machine suggests you to test yourself in a new capacity. Protect people by declaring the vampire hunting and kill the vampires, which get our from their coffins in the night to taste human's blood.
Rating
Excellent
8.56 /10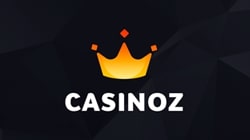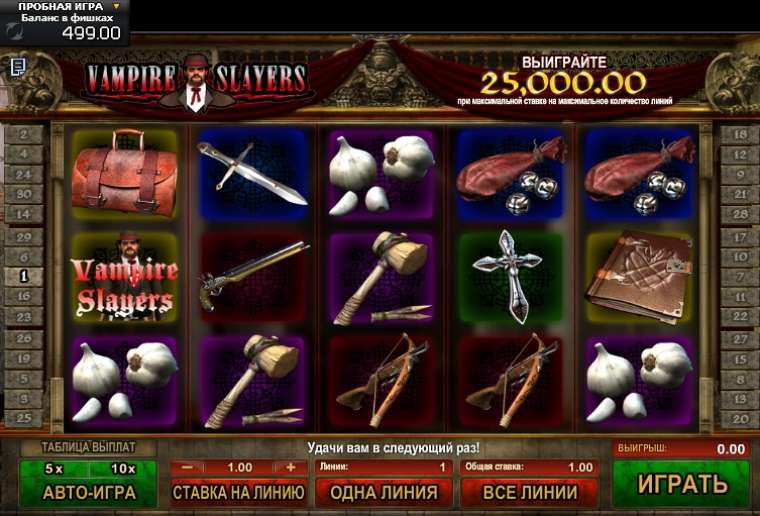 Play Free Demo slot
Adameve casino provides its customers an opportunity to play Vampire Slayers slot machine even without registration. You can hunt for vampires with a great pleasure in this gambling house with a convenient functionality.
Please share your impressions of Vampire Slayers slot machine with us and other readers of casinoz.me. You can write your responses in comments to the review and rate this game. Your opinion is very important for us.
How to Play pokie
Vampire Slayers is a five reeled slot machine which continues time-honored vampire topic. The style of this video slot somehow reminds the style of Van Helsing. This slot machine is designed in the same colors.
Dark and creepy background music is accompanied by different sound effects, including heavy breathing, scratching sounds, as well as crashing symbols. These sound effects are interchanging and such a variety makes Vampire Slayers video slot very interesting. When you see a knife at the screen, you can hear a proper sound. The sound effects improve the gameplay which makes a great difference to other slot machines.
A wide range of bets and an opportunity to stake different amounts wouldn't disappoint you. It is possible to start the game and stake just one cent. Moreover, it is possible to download this slot machine free, so the the conditions are quite democratic for the players. The high-rollers would also be satisfied. The maximal acceptable bet of this game is one hundred fifty dollars per spin.
While playing this slot machine, you can enjoy all the preferences provided by Vampire Slayers video slot to you.
You can find an option of stop game among the other particularities of this game. It is triggered automatically when two of three proper icons appear at the active line.
The symbol with an image of a book plays part of Wild symbol in this game. It is able to replace any other symbol at the active line. Over one such symbols can be used during a spin. Every Wild symbol is also provided with a beautiful animation - you can see how the book is opening.
Three and more symbols with a murderer can bring you a round of free spins. You can receive five free spins for three such symbols, ten free spins for four symbols and fifteen free spins for five symbols. Unfortunately, free spins are triggered not very frequently, while payoffs, which you can win while playing in this round are very generous.
Symbols, Wild, Scatter
Among the gaming symbols, which you can see at the screen of Vampire Slayers slot machine, there are lots of pictures with armor, used for killing the vampires. There are guns and knifes, holy water and stakes, as well as silver bullets and of course garlic. The design of the icons is very beautiful on its own, while when its impressive animation is activated, it becomes pretty incredible. You can see animation of the symbols every time a winning combination is formed at the reels.
Bonus games
From three to five bonus symbols at the active line can grant you with the bonus round named «Vampire Killers». There you can see five closed coffins at the screen. You would have to choose three of them. In case of right choice, a vampire would be destroyed and you win a prize, while if you open an empty coffin, your bonus round would be finished. You wouldn't lose your previous winning, but the bonus round would be finished and you go back to the regular game mode.
Jackpots
If you are playing online slot machine in a training mode, you can't feel the drive of the gambling, which is provided by slot machines in the real game. In particularity, you wouldn't be able to win the jackpot, which amount is twenty five thousand dollars in this game.
Interface
The elements of the interface of Vampire Slayers slot machine support the dark gothic topic of this game. You can see gargoyles sitting in the center, as well as a bat flying at the screen, which adds some special savor to this slot machine.
«Autogame», «Bet per Line», «One Line», «All Lines» and «Spin» butting write themselves, so you are not going to face any difficulties even if you haven't play any video slots before.
Vampire Slayers is devoted to the popular topic. This game is provided with a stunning graphics, bonus games and an opportunity to win the jackpot in amount of twenty five thousand dollars.
Should You Play Slot for Real Money in New Zealand?
Vampire Slayers game has its particular and scaring graphics, which is used to be in slot machines, talking about killing the vampires. In this connection, there is no difficulties to sink into the atmosphere of the game, while the exciting gameplay keeps the players on their toes. This game would suit those who want to feel a scaring and mystic atmosphere.