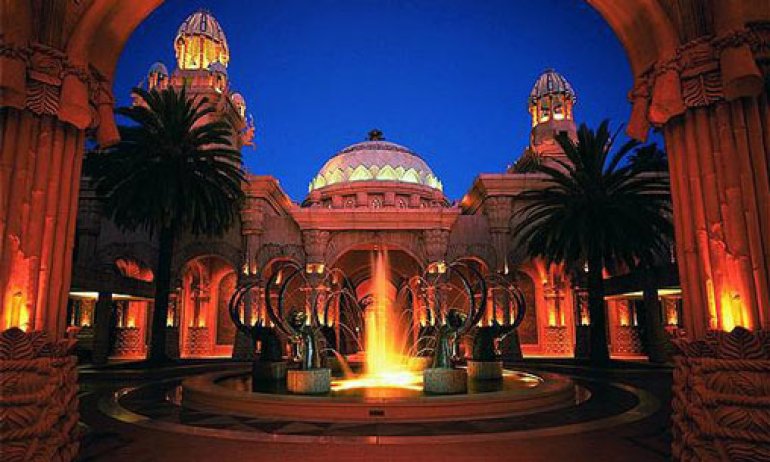 Sun City Casino Resort is situated within roughly a 2-hour drive from Johannesburg. It was built in 1970s, but officially Sun City was opened in 1979. Sun City used to be a symbol of hypocrisy and moral decay in apartheid. However nowadays it is the most luxurious place in the depth of South Africa.
History of Sun City
Sun City was a brainchild of the South African tycoon Sol Kerzner, who had created the fabulous Atlantis Hotel and Casino Resort in Nassau. He just wanted to create something like Las Vegas in Africa. He made a deal with Lucas Mangope, a president of the formally independent from South Africa Bophuthatswana, and received an exclusive license that allowed providing gambling activities, despite the fact that gambling was prohibited in South Africa at that time. However Bophuthatswana had more liberal legislation, so illegal gambling, striptease, and prostitution were flourishing there. It was not difficult to get a gambling license. So, Sun City Resort was opened in 1979.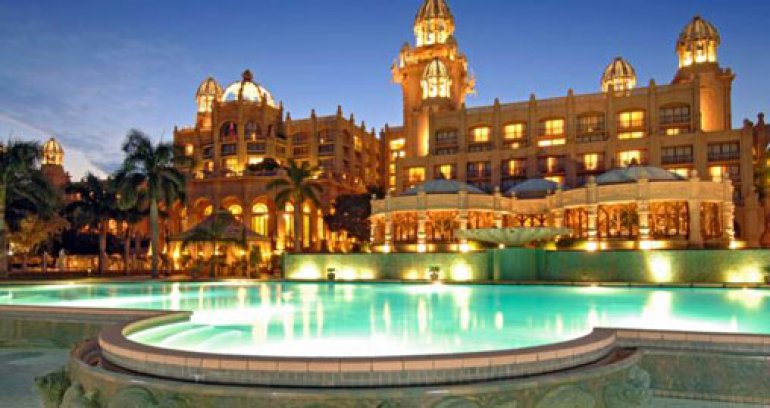 The crowds of white people from Johannesburg and Pretoria located nearby visited it, so "the black resort" quickly became known as a symbol of hypocrisy, moral decay, and apartheid. Many musicians avoided visiting South Africa due to the UN cultural boycott declared in 1968. However there was a long list of international celebrities, including Frank Sinatra, Ray Charles, Queen, Rod Stewart, Black Sabbath, Elton John, and Tina Turner, who ignored this ban and performed at Sun City. In contrast to them, a group of stars that included Bruce Springsteen, Bob Dylan, Lou Reed, and U2 released a song called Sun City in 1985, which was supporting a protest against apartheid. "I, I, I, I, I, I ain't gonna play Sun City!" was a line that determined the perception of the most famous and extravagant super resort in South Africa for children of the eighties.
Despite this anti-advertising, Sun City flourished under the leadership of Sol Kerzner (by the way, he had an interesting nickname - the Sun King). He continued to build hotels, resorts, and finally constructed the huge Palace of the Lost City in 1991.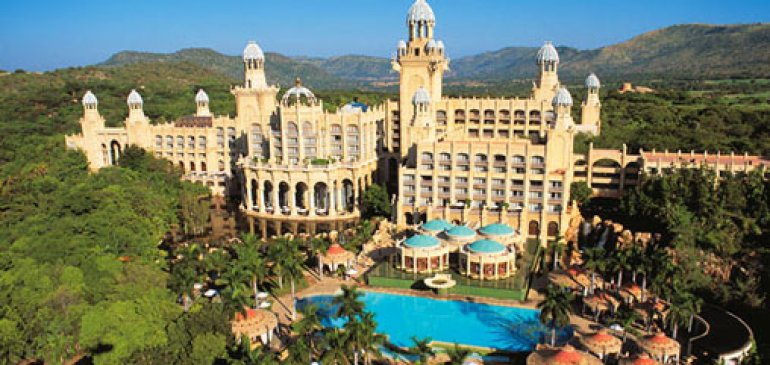 Since the end of apartheid in 1994 when Bophuthatswana officially became a part of South Africa, Sun City has been developing under new conditions. A water park and two exclusive golf courses were built additionally. Currently, Sun City Resort occupies 65 ha and includes over 7,000 employees. Many representatives of its staff belong to indigenous Tswana population. Visitors are represented by the multicultural mix of blacks, whites, and Asians. They are mainly tourists and sightseers from Johannesburg.
Casinos
Sun City Casino Resort has been a gaming mecca of Africa over the years. There are not too many places on Earth where you can enjoy a safari in the daytime and gamble at casinos at night. This is perhaps the most distinguishing feature of this luxurious gambling establishment - gambling and adventures simultaneously.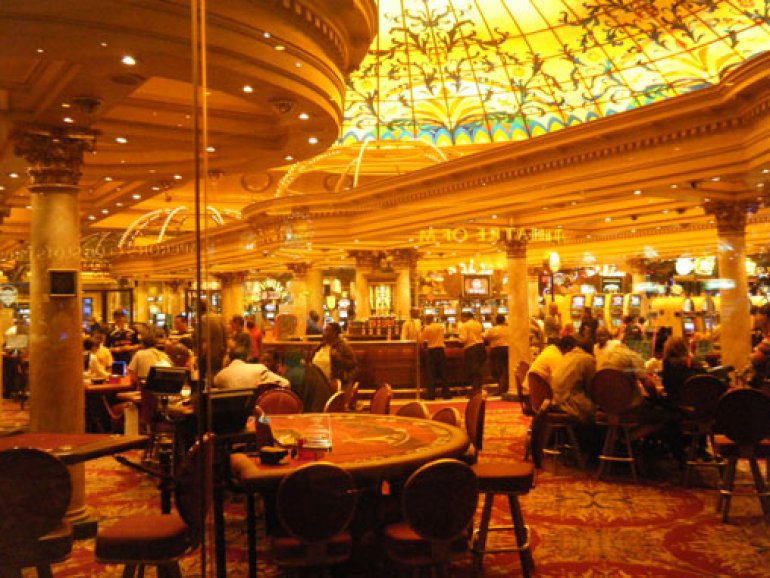 Sun City has two casinos: Sun City Casino & Hotel and Jungle Casino, which is located at the Cascades Hotel. When you see paintings on domed ceiling, you will understand why Jungle Casino has received its name... they are a true masterpiece. African animals and raging jungle are looking at you from the top. It looks just like 3D. Sun City Casino is designed as a jungle inside. Visitors can hear the noise of the artificial waterfall inside.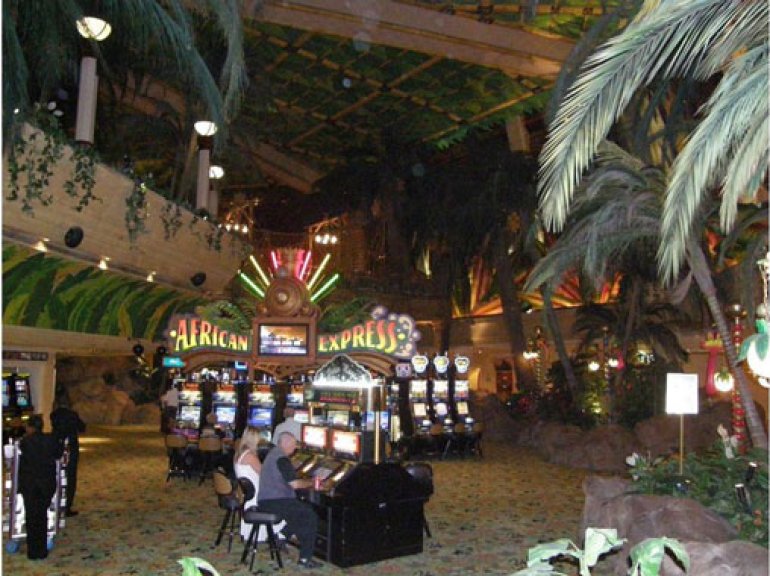 The list of table games offered at Sun City Casino and Jungle Casino includes 43 tables for baccarat, blackjack and stud poker, American and European roulette. Over 850 slot machines are available at the casino. As at all modern casinos, slots have cashless payment systems. It is necessary to purchase a smart card. The casino is open 24 hours a day, 365 days a year.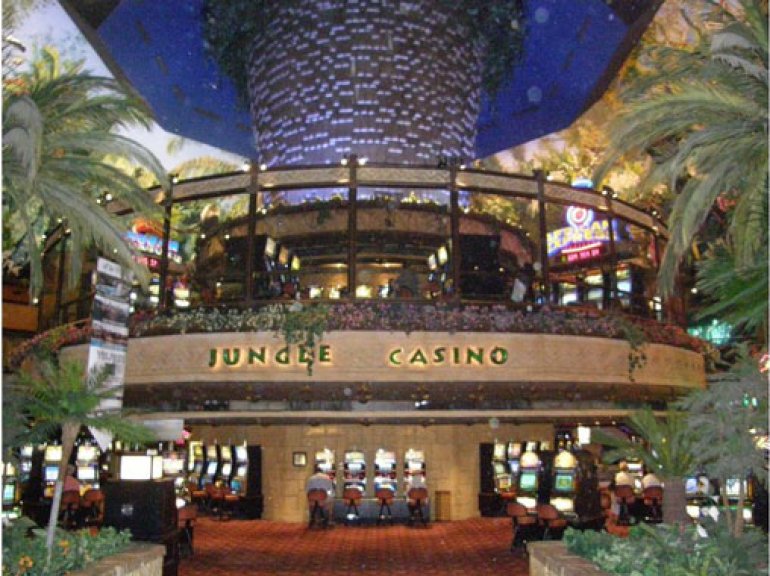 Ordinary players can wager starting from 2 cents, while high rollers can gamble at the exclusive Salon Priv?, where the lowest bet size is 100 rand. The casino also offers progressive slots, which are based on the wheel of gold, allowing players who have made bets of any level to obtain a jackpot. The Sun City Casino School offers free training that allows mastering the basics of all available games, as well as etiquette and rules of behavior at the table in the casino. The casino publishes a brochure bimonthly, which is available both online and in the casino. It allows players to find information about the recent promotions in both casinos and other kinds of entertainment at Sun City.
Entertainment of Sun City
The monorail delivers visitors to the Entertainment Centre, i.e. to the center of Sun City. Passing by a few dozens of expensive boutiques, you will find yourself at Jungle Casino, which is one of two gambling centers. The rows of slot machines are arranged under the domed ceiling covered in murals with the images of African animals.
If you exit the Entertainment Centre and go through the Bridge of Time with full-scale statues of elephants, you will find yourself in the amusement park of Lost City. This is an essence of Sun City's kitsch, the pride of African culture, and heritage of the ancient powerful kingdom. It looks rather like the mad Disneyland inspired by the Ancient Egypt. A volcano model is located from the side of the bridge. Its eruption can be observed each hour. It erupts with a roar and smoke. The Monkey Spring Plaza sculpture is situated from the other side of the bridge. According to the legend of Lost City, statues of monkeys squatting with outstretched hands symbolize the memory of a group of monkeys that saved the ancient city from famine during a terrible drought.
An incredible water park Valley of the Waves is located in the middle of the Lost City. The lake with tropical islands is surrounded by an artificial beach with white sand against the background of dense forest slopes. Every 90 seconds hydraulic mechanisms create a two-meter wave that runs across the surface of the water park. Its area is 6,500 square meters. Attractions of the water park are equally exciting, for example, the Temple of Courage. Here swimmers slide down a 70-meter chute from the height of 17 meters. The water park also includes an indoor swimming pool with a cocktail bar and constant spring atmosphere called Royal Bath. Users can go to the botanical garden with baobab trees and other tropical plants via swinging pedestrian bridges.
Welcome Centre allows arranging any kind of adventures, including water skiing, parasailing, horseback or stagecoach riding. Customers can play paintball in the Outdoor Adventure Centre or feed crocodiles in the Kwena Gardens Crocodile Sanctuary. Sun City has two golf courses, including the Lost City Golf Course (with the area of 100 ha). This course has the shape of African continent. It is bordered by a pond in which a few large crocodiles are residing.
Having seen all kinds of entertainment of Sun City, users can visit the nearby Pilanesberg National Park, which is one of the most accessible wildlife parks in South Africa. Occupying an extinct volcanic crater, it was declared a national park in 1984. It contains over 6,000 animals, including lions, cheetahs, giraffes, zebras, elephants, and several types of antelopes.
Hotels
Hotel Sun City
Over 1,200 luxurious rooms in 4 hotels are available for visitors of Sun City and 340 rooms out of them are located at the Sun City Hotel. All rooms offer views of the crystal-clear artificial lake or the world-famous Gary Player Golf Course, where it is possible to play golf. Water skiing and parasailing are also provided. Other attractions for visitors include access to the outdoor water park with rivers and waterfalls and, of course, an opportunity to drive a quad bike through the savanna. The hotel is surrounded by exotic tropical plants and magnificent gardens.
Palace of the Lost City
Another hotel of Sun City is referred to as Palace of the Lost City. It is rightly recognized as one of the most luxurious hotels all over the world due to its architecture and design. According to the legend, it was built on the site where the ancient citadel of the forgotten African king had stood. It is considered to be its reincarnation that probably has contributed to the appearance of its name: the Lost City.
This magnificent hotel with stunning mosaics, murals, painted ceilings, and fountains offers five-star service, top-class water resort, attractions and adventures within 25 ha of jungle surrounding the palace. There are 338 rooms and suites with marble bathrooms with butlers and regular services: bar, luxurious handcrafted furniture, multi-channel satellite TV, air conditioning, ceiling fan. The gardens that surround the hotel are strewn with fountains and swimming pools. There are also several bars and restaurants in which the weary traveler can quench his thirst. The hotel is designed in the style of the Lost City, offering its visitors the opportunity to live in royal atmosphere of a palace of a powerful ruler.
Cascades Hotel
The third hotel is a five-star Cascades Hotel. The silhouette of cascades of the hotel rises from the jungle as tropical Aztec temples. All 243 rooms of the hotel include the luxurious private garden Garden Suite and a swimming pool. The rooms offer views of the landscaped gardens or the luxurious swimming pool. A lake with waterfalls, an artificial beach with a cocktail bar, a garden populated with exotic birds, and three swimming pools, including a swimming pool for children and a pool with heating systems, are available on the territory of the hotel.
Cabanas Hotel
The three-star Cabanas Hotel is the most unofficial way of accommodation that is more suitable for families. There is a children's playground. Babysitting services, aviaries for wild and domestic animals are provided. The Entertainment Center organizes activities for children from two to twelve years of age. The hotel offers 380 rooms equipped with Wi-Fi, tea and coffee making facilities, air conditioning, safe, and TV.
Summary
Sun City Casino and the entire Sun City is a stunning place for entertainment situated in one of the few locations on Earth where users can enjoy a wilderness area. The casino is located in an amazing resort town, full of unique and interesting attractions. If you are fed up with the winter and you like the summer, it's time to visit Sun City!